The Value of a SDMC Pre-Purchase Inspection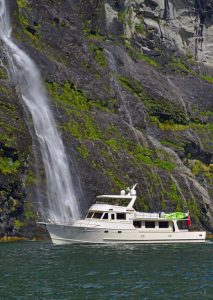 An SDMC pre-purchase inspection will save you money, and avoid heartache, as you navigate the process of purchasing your new or pre-owned vessel, and as you prepare it to meet your requirements, and cruising dreams.
As the buyer of a new or used boat, the only opportunity you will have to negotiate with the seller of a vessel, based on its condition, is before the purchase. Once that's complete, correcting any problems or deficiencies becomes your responsibility. The stronger the case you can make for what it will cost you to fix the problems with your prospective boat, especially those related to safety and reliability issues, the greater the probability that those costs will be taken into account in the final purchase price.
My ability to identify those problems; estimate the costs to fix them and my reputation in the marine industry give you unparalleled expert-driven leverage in the purchase process.
Also, most buyers anticipate refitting or upgrading their newly purchased boat to meet their specific requirements and boating dreams. Too often, a buyer is surprised and frustrated when they realize the total costs required to do that is significantly more than anticipated. The most advantageous time to project those future costs for maintenance, replacement and upgrading equipment, or for determining whether this boat will fulfill your boating dreams, is prior to the purchase. Subsequent to that, you must live with those costs and lost dreams or purchase another boat. This information will be shared with you as part of a SDMC Pre-Purchase Inspection.
The services offered by SDMC's Pre-Purchase Inspection Program put me by your side throughout the assessment process. You have my expertise, experience and reputation as an expert adviser, someone who has observed first-hand, over the course of over 30 years as a mechanic, electrician, boat yard manager, technical journalist and consultant, the myriad ways in which a vessel and its systems can fail, or be designed or installed incorrectly, particularly when those issues are not readily apparent.
How do the services of SDMC differ from those of a surveyor?
In over two decades in the industry, I've reviewed hundreds of survey reports and worked with scores of surveyors. They are often required by insurance companies, and too often relied upon by buyers to assess the value of the vessel, and the cost of correcting or improving its systems so that they meet the buyer's requirements for safety and reliability.
I was inspired to begin my vessel inspection and consulting business partly because I saw too many unhappy new and used boat buyers, who, after bringing their boat to the yard I managed, were taken aback by the cost associated with correcting the multiple safety and reliability issues overlooked in the typical survey.
In the vast majority of Pre-Purchase Inspections I conduct, surveys are also carried out concurrently and in most of those cases I'm given copies of the surveys. Simply put, with very few exceptions, my reports are significantly more detailed, reveal more flaws, more defects and offer more recommendations for improvement while identifying more areas that will cost the buyer money and compromise the safety and reliability of the vessel.
Most surveyors are capable of doing little more than thoroughly documenting the vessel's systems, and that is certainly of value to you. However, the scarcity of action items contained in most surveys makes it clear to me that many survey reports are not the result of an ultra-thorough inspection of the vessel and its systems, and in that respect are of little value to the buyer in negotiating with the seller or builder, or in understanding the funds that will be necessary to raise the vessel to a standard that is acceptable to the buyer, while ensuring that it is seaworthy, reliable and safe.
You can review sample Pre-Purchase Inspection Reports on my website. Two example reports are available for review, they are actual reports, one for a new vessel and one for a used vessel.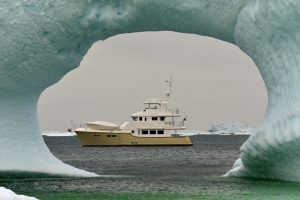 The following represents a typical example of the difference between a SDMC inspection and a survey report. My inspection of a 52-foot vessel required two full days and my report numbered 154 observations (and over 400 photographs), roughly 40% of which fell into the 'critical, must be resolved without delay', category. The survey for the same vessel included a scant two action items and the vessel's overall condition was deemed "very good" (unless clearly defined such "ratings" are highly subjective, which is why I do not use them).
In yet another example, a survey I recently reviewed for a potential client indicated that the fuel tank installation is "ABYC Approved" yet, just a few lines below that the surveyor dutifully notes that the generator and fuel manifold are equipped with "Racor 500 FG" series filters and that the fuel system is "well thought out" and the condition is "good". FG series filters lack a heat shield and therefore do not provide the flame resistance necessary for ABYC and UL Marine compliance; they are not designed for use in marine engine rooms. Furthermore, while they may be ABYC compliant, no portion of a vessel's systems are "ABYC approved", as ABYC is simply a standards setting body, they carry out no inspections and offer no approvals or rejections. That's simply one example that I selected at random from that report, there are countless such examples in my files.
In short, the overlap between my Pre-Purchase Inspection and most surveys is very little indeed.
Buyers should be particularly wary of a broker-initiated or supplied survey. On many occasions in my career I've reviewed such surveys and I take them for what they typically are, an inventory of the vessel's systems and no more. While the broker may be honest and reputable, with few exceptions most simply will not retain or recommend a highly critical surveyor to carry out a survey, or pass along a truly detailed survey.
Projecting Future Costs to Ensure Your New Vessel Fulfills Your Requirements and Dreams
Unlike most surveys, SDMC provides inspection clients with projected labor cost data for carrying out repairs, corrections and improvements on critical items. This is yet another powerful tool to negotiate a fair price and if you, the buyer, decide to purchase the boat, you have the initial information needed to carry out the necessary repairs. For example:
While a surveyor may point out, if you are fortunate, wet deck core around a windlass, it's unlikely that he will be able to tell you how much these repairs should cost, how they should be properly executed, how to prevent a reoccurrence of the problem and where to go to have the work properly and efficiently carried out.
Matching Your New Vessel to Your Boating Dream
With few exceptions, SDMC will tell you if the existing equipment will do what you expect it to do.
While a surveyor may note in his report that a shore-powered battery charger is present, and he may indicate its output capacity, it's unlikely he will indicate whether its output is properly matched to the capacity of the batteries or if it's temperature compensated (and why this is important) and, if the brand and model of charger is reliable and well supported by the manufacturer.
SDMC will take into account your long-term costs and your long-term plans for this boat.
The job of a surveyor is to give you a statement of the condition and fair value of a boat today. SDMC bases its evaluation on your long-term plans for the boat. Will it do what you want it to do? Will the cost to maintain and upgrade the boat to meet your dreams exhaust the funds for that dream? Will it carry you, your family and friends safely and reliably through those dream passages?
The SDMC Pre-Purchase Inspection
Typically, Pre-Purchase Inspections require a minimum of two days for the inspection, and a total of five days when the time required for travel and report writing are taken into account. They include a sea trial and haul out.
An inspection of this sort includes a thorough overview of the vessel's major and minor systems including electrical, engine and peripherals, decks, hull, plumbing, bottom, running gear and underwater hardware among others. I'll literally crawl through and into every accessible, and some not so accessible, space and compartment with pad, pencil and cameras in hand. I'll conduct a sea trial to test propulsion and other underway systems. I'll detail in writing and photographically any and all flaws, defects, safety issues, problems, potential problems and recommended changes or improvements I encounter. My goal will be to improve your peace of mind along with the vessel's reliability, safety and economy of operation.
The information I record will be distilled into a detailed, referenced, photo-documented, prioritized report that I'll provide to you in pdf format, along with an online link to the photos.
The inspection fee is based on the vessel manufacturer, complexity, volume of systems, age and size (in that order); fees begin at $6,200, plus expenses. I'm firmly convinced that every client for whom I've carried out an inspection would agree that the actual financial value far exceeded the inspection fee. I encourage you to read what other clients have said about this process, there is a testimonials page for both owners and buyers.
View a video of Steve D'Antonio describing this program.
In addition to the above-described services, where necessary I will also provide guidance on fluid/oil analysis and tasking mechanics with complete, thorough engine inspections. Finally, if you also choose the Captains' Club program, SDMC stays with you to continue to build your confidence in your boat and in yourself.
Call or email for further details on these and other programs and services and the benefits they provide.