Typically, Vessel and Systems Inspections require a minimum of two days for the inspection, and a total of five days when the time required for travel and report writing are taken into account. They include a sea trial and haul out if desired. An inspection of this sort includes a thorough overview of the vessel's major and minor systems including electrical, engine and peripherals, decks, hull, plumbing, bottom, running gear and underwater hardware among others. I'll literally crawl through and into every accessible, and some not so accessible, space and compartment with pad, pencil and cameras in hand. I'll conduct a sea trial to test propulsion and other underway systems. I'll detail in writing and photographically any and all flaws, defects, safety issues, problems, potential problems and recommended changes or improvements I encounter. The report is specifically designed to be used by you, as well as to task those carrying out service and repairs aboard the vessel.  My goal will be to improve your peace of mind along with the vessel's reliability, safety and economy of operation. The information I record will be distilled into a detailed, referenced, photo-documented, prioritized report that I'll provide to you in pdf format, along with an online link to the photos.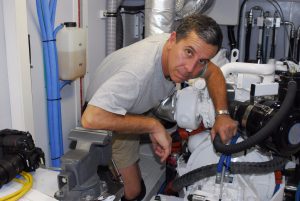 This service is ideally suited to vessels that are about to undergo a refit, identifying area that require attention, as well as avoiding mid-refit surprises, and the effect they can have on a project's budget.
The inspection fee is based on a vessel's complexity, systems, builder, age and size; they begin at $6,200.00, plus expenses. I'm firmly convinced that every client for whom I've carried out an inspection would agree that the actual financial value far exceeded the inspection fee. I encourage you to read what other clients have said about this process, you can review examples here. In addition to the above-described services, where necessary I will also provide guidance on fluid/oil analysis and tasking mechanics with complete, thorough engine inspections. Finally, if you also choose the Captains' Club program, SDMC stays with you to continue to build your confidence in your boat and in yourself. Call or email for further details on these and other programs and services and the benefits they provide.