Buying the wrong boat, even at a great price, has ended far too many boating dreams, or cost too many boaters an extraordinary amount of money, to transform their newly purchased boat into the boat that fits their requirements, plans and dreams. Other than your home, your boat is probably your largest investment. When you bought your home, you put a great deal of energy into determining exactly what you required in that new home. Boat designs and systems are much more complex than any home, and what you expect a vessel to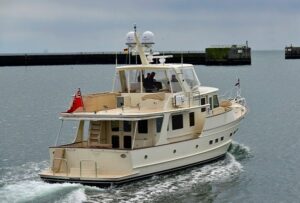 accomplish is also much more complex, and more difficult to assess in advance. Imagine the advantage to you of having an expert by your side, as you decide exactly what you require and can afford in your first or next boat, before you set out to find that ideal vessel. SDMC's Vessel Selection Assist program puts one of the most experienced and respected marine experts by your side, as you explore all the options to determine the right vessel for you, based on your timetable, as well as your cruising and financial plans.   Vessel Selection Assist plans fall into the following two categories.
1. Vessel Selection Assist – Focus: You are searching for the right boat and have questions about overall design and features that may work for you. Step One, "Focus", assists you in focusing your search on the type of boats that fit your cruising goals, your system/power/accommodation requirements and in focusing on high quality manufacturers in your budget range.
I started this service after seeing motivated buyers terminate their search and end their dream because they became overwhelmed by the number and diversity of available boats, even within a specific price range. Others had a more costly experience in which they ended their dream because they purchased a boat without getting clarity at this step and, as a result, their boat failed to fulfill their needs and dreams. In this program, I help you clarify your goals and requirements, provide you with an overview of the options available to meet those goals, and requirements and then help you focus on one or two boat types, a size range and a few manufacturers in your price range. With that focus, your search becomes manageable, less frustrating and more enjoyable.
This service involves your completion of a detailed questionnaire, and phone and email exchanges. It has a 30 day time limit so that we keep your process moving forward with a sense of urgency. The fee for this service begins at $3,200.00 for a minimum of 30 days.
2. Vessel Selection Assist – Evaluation: This service is utilized when your search has led you to one, two or more boats that appear to meet your requirements, and you now seek a more detailed opinion on those vessels, and their systems before committing to the purchase. For example, what is the reputation of the vessel's builder and/or dealer/importer? Is the size of the generator adequate for your requirements and what is the reputation of its manufacturer? Are the fuel tanks made of the best possible material, and if not what is the likelihood of failure? Is the charging system adequate for the size and type of batteries, and for your intended cruising plans?  Is it equipped with lithium ion batteries, and if so are they from a recognized, trusted manufacturer and properly integrated?  Is the sanitation system the most reliable and odor resistant? Is the vessel prone to core saturation or blister issues? And so on. Typically, my clients who utilize this service will ask me to critique a vessel's sales listing, photos or specifications. That critique then enables you to pose questions to the seller or broker regarding what's in the listing, as well as what's not.
This service affords you e mail and telephone communication to discuss the specifics of this vessel (or vessels should you consider others). If you believe this service would be beneficial to you, fees begin at $3,200.00 for a minimum of 30 days. You can read the comments of some of my clients who have utilized this service here.
Finally, if you also choose the Captains' Club program, SDMC stays with you to continue to build your confidence in your boat and in yourself. Call or email for further details on these and other programs and services and the benefits they provide.