What is an SDMC Partner? SDMC Partners are individuals, organizations or manufacturers who have been carefully and rigorously vetted as a result of direct interaction, and via feedback from SDMC clients. Partners are trusted sources who can be relied upon to provide quality services and products, however, they are not "sponsors", they do not, and cannot, pay for the privilege of becoming a Partner, this must be earned, on a continuing basis, by living up to our technical, business and ethical standards.
---
Vessel Vanguard complements and enhances the value of the services offered by SDMC by improving your sense of self sufficiency and your vessel's mechanical preparedness. With the WheelHouse Marine Maintenance System, you know what service and maintenance tasks need to be carried out and when, without having to pour over owner's manuals or other fine print. WheelHouse Technologies' Spare Parts Outfitting and Fluid Analysis programs will provide you with the parts and condition-based monitoring information you'll need, all with a minimum amount of fuss and worry, an approach fully endorsed by SDMC.
SDMC clients receive a discount on WheelHouse membership, inquire for details.
Visit WheelHouse Technologies at www.wheelhousetech.com.
---

Trinity Marine.  I've known and worked with Yves Deneault since 1999, when he was hired as an electrician at the boat yard I managed.  During his time there we worked closely on a variety of complex electrical projects; during which I gained an appreciation for his attention to detail and tenacity in identifying and solving problems.  Yves has what I like to call 'the curious mind of a professional, which means he not just content in replacing a failed part, he wants to know why it failed and how future failures can be prevented.
In 2004 Yves moved to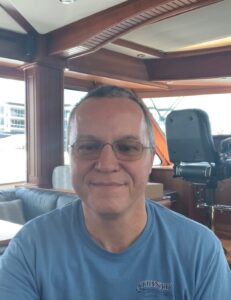 Florida to establish his own marine electrical business, Trinity Marine Electric, Inc. where, as a knowledgeable, professional, ABYC-certified and honest industry professional, he has thrived, his services are now in great demand and with good reason.  There are few people in the marine industry I recommend without reservation, Yves is one of them.
Visit Trinity Marine Electric at http://trinitymarineelectric.com/wordpress1/.