Founder and CEO of Steve D'Antonio Marine Consulting, Inc.
(This bio is written by one of Steve D'Antonio's long-time clients)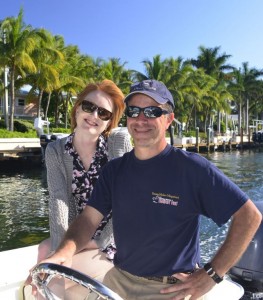 When he started his consulting business in 2007, Steve set an ambitious mission for his company, "To Bring the Fun Back to boating by making our boating experiences safer, more reliable and less costly." That's not something he hopes to do someday in the future. He's doing it today for his individual clients, his industry clients and his many loyal readers.
He's been living that mission statement since the day he took his first job in a boatyard in 1998, and through many years as manager of a boat yard, as a feature writer, journalist, photographer, and editorialist; through over a thousand print and online articles, columns and blogs written for major boating magazines since 1992, through his role as Technical Editor of both PassageMaker Magazine (2001-2014) and Professional Boat Builder magazine (2008-present), and Cruising World magazine, as well as a regular contributor to Ocean Navigator, Yachting, and PropTalk Magazines, and several owner's group forums; through his lectures for major industry association meetings as well as his contributions to the American Boat and Yacht Council (ABYC), the industry's premier standard-setting body; and through his lectures at boat shows, rendezvous and other events, as well as for owner's groups, cruising associations and yacht clubs. He lives his mission daily.  Steve has accrued over 50,000 miles of sea time in both power and sailing vessels, he's made numerous passages to Bermuda while working as a coach for the Naval Academy's sailing program, as well as passages aboard power vessels to far flung locations that include Antarctica, Iceland, Newfoundland, the Faroe Islands, Svalbard, Alaska and Greenland, he's visited six of the seven continents, and has traveled above the Arctic, and below the Antarctic circles. The time he spends aboard these vessels at sea enables Steve to remain current on the latest systems and more importantly, he is able to evaluate how well they operate under real-world conditions.
Steve possesses four American Boat and Yacht Council certifications, including Corrosion, Diesel Engine, Electrical and Systems categories, affording him coveted ABYC Master Technician status.
Because of his unique ability to explain highly technical information on a wide array of boating topics in a clear, easy to read and easy to use manner, he has become a widely read and widely sought after voice in the marine industry.
Within the marine industry, he has become a widely respected advocate for the boat buyer and owner, primarily because the industry knows that he has the technical expertise to fully assess their products, the hands on experience to appreciate their challenges, an intimate understanding of their customers, and he has the ear of their buyers. The focus of his advocacy is directly on his company's mission; to insure that the products and services provided by the marine industry continue to improve the safety and reliability of the boating experience, to reduce the cost of boat ownership and bring the fun back to the boating experience.
When he resigned from his position as the manager of a boat building and repair yard, to start his consulting business in 2007, it allowed Steve to become an active force in every area of the marine industry, and to make his expertise, skills and services available nationally and globally, while remaining available to his clients on a daily basis.
I was a boatyard client of Steve's for over a decade and have been a consulting client since he started his company over five years ago. I could give you a glowing testimonial describing how Steve has made my boating experience safer, more reliable and less costly and how he kept my boating dreams alive when, many years ago, I would have pitched them out the window out of frustration with the marine industry. However, a single testimonial is not sufficient to make the full case for the value of Steve's services. I encourage you to read the client testimonials that Steve has published on his website, from folks who have had Steve inspect boats before they purchased them, from folks who have carried out complex refits relying on Steve's guidance, from those who have been trained by Steve individually or in workshops, as well as testimonials from industry professionals and companies who have used Steve's services. In short, those testimonials will amaze you.
To view an interview of Steve D'Antonio, first published in Soundings Magazine in July 2011, please follow this link.
To view an interview of Steve D'Antonio done by Nordhavn owner James Ellingford in January 2015, please follow this link.
To view a three part interview with Steve about his work, career and the marine industry conducted by colleague Jeff Merrill in August of 2021, please follow these links:  Part I, Part II, Part III.  To view Jeff and Steve's maintenance guidelines, please follow this link.