Pre-Purchase and New Build Testimonials
Hi Steve,
I remember meeting you for the first time in Seattle for the purchase inspection on our brokerage Nordhavn 55 back in 2014. We clicked then and still do.
After spending the next couple days going over every system, nook and cranny, just before you left for the airport, we sat down and reviewed a short list of items you thought important for me to use in my final meeting with the seller's broker – it was so invaluable. Powered by your un-assailable 'list' we closed at my hoped for terms a couple days later – and then your formal report arrived. Wow! Your detailed report along with hundreds of annotated pictures made getting ready from our Seattle to NYC voyage so much easier for Tracy, me and the marine professionals working on Sunday Morning. We saved both time and money using your report to guide us.
When we decided a few years later to build a new Nordhavn 68 there was no doubt in our minds that we need to have Steve on our team. The build process was longer than expected for reasons out of your control but still really enjoyable. It was impressive and gratifying to see how well you and Nordhavn worked as a team to help build our dream boat. I am sure Nordhavn and the their yard in Taiwan would agree that with your knowledgeable input and always collaborative and non-adversarial approach we ended up with a better boat. My memories of all our inspection visits to the yard in Taiwan will forever be highlights, especially the one during the middle of Covid when we had to spend 15 nights in separate quarantine rooms! Thanks again for going with me. BTW, if I ever build another boat it WILL be a Nordhavn and we WILL be doing it with you!
This summer we cruised to the entire East coast and after holidays planning on headed out to the Bahamas. I hope you can join us soon and enjoy what you had a huge part in building.
Van Anderson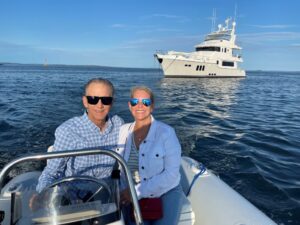 ---
To Whom It May Concern,
There is no chance I would buy or build another boat without Steve's involvement.
To date, Steve helped us with the purchase of a Fleming 65, the new build of a Palm Beach 50 and recently, the new build of a Palm Beach 55.
Steve was deeply involved in so many areas…. technical recommendations and advice, implementing necessary modifications, interfacing with and visiting the factory multiple times, inspecting, testing, correcting and the list goes on. During our most recent build, and with Steve's guidance, we made over 200 changes, modifications and additions.
The end result is that we have a boat that we love. Steve ensured it was designed to fit our needs perfectly and that we have confidence it was built with safety, ease of service and functionality in mind. During our first year we have traveled the east coast three times and are constantly reminded how well this boat exceeds our expectations. The credit for accomplishing that, in so many areas, belongs to Steve.
Happy to discuss any aspect of our experience with anyone considering a project with Steve D'Antonio.
Most Sincerely,
John Gregory
SalesmanShip (PBMY 5530)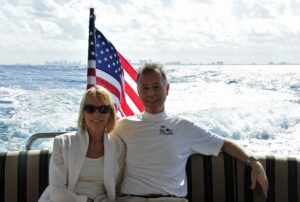 ---
Hi Steve,
I wanted to thank you for your inspection on my now two months new to me 2014 55' Kadey-Krogen Expedition. In the past 2000 miles I haven't had an issue come up on any systems that you inspected. Additionally all the service work needed and system updates that you suggested, were necessary and have contributed to these flawless first months performance. The actual costs to repair and to replace the systems were remarkably close to your estimates. 
In addition to finding the very numerous repairs, replacements, needed additional items, etc the time you took to explain in detail how each system works, the typical factory recommended service, the strong points and weak points of each system, has given me the knowledge and confidence to feel comfortable running, maintaining and troubleshooting my new boat. The knowledge you have on all of the systems and their issues is tenfold greater than the typical surface-deep survey inspectors I have used on other boats. 
The compensation for your services seemed high to me on the outset, however after reading your reviews, seeing you in action, using many findings from your report to adjust the already well negotiated initial sales price to the point where it covered some repairs needed and the cost of your inspection I have too agree it is much more than worthwhile. 
In summary, I wouldn't purchase another boat without utilizing your services again. 
Thank you Steve,
John Coppola
---
Dear Steve,
I would like to thank you for the excellent inspection that you performed for us on our new Nordhavn. The presentation of your findings was very clear, thorough and extremely easy to follow. The additional supporting documentation and video links was an added bonus. I would recommend your services to anyone.
Yours sincerely
Peter Goldsmith
Nordhavn 52
---
Dear Steve,
I wanted to write you to thank you for being such an incredible mentor and advisor throughout our search, purchase, survey and refit of KK5819.
Since we purchased the vessel for the purpose of extended family cruising with young children, the stakes were high in finding a seaworthy and comfortable "home."   Since I was making a sudden transition from weekend boater to live-aboard status, I had a lot to learn and fast.  Since the marine industry is rife with conflicts of interest, mostly at a boater's expense, I needed an independent advisor who actually cared about my interests only.  An impossible task I assumed.
Steve, simply put, you were the answer.  You gave me the confidence to make big choices, drawing on your deep deep wells of experience and knowledge.  You taught me not only the systems and their proper maintenance but the values I should have as an owner of a boat to which I am entrusting the safety of my family. You never once rushed me off the phone or simplified an explanation.  You were always patient with the obvious and meticulous with the complex.
Thank you. It has been an absolutely wonderful experience working with you.
I'd say this to anyone considering your services: Doing things right takes time, but it takes much less time with Steve D'Antonio in your corner. If you want a consultant who will help you avoid mistakes and prepare for failures, there's Steve D.  If you want a consultant with an almost limitless reservoir of knowledge and experience, there's Steve D.  If you want a consultant who is professional, an incredible teacher, personable, direct, efficient, prompt, immune to industry pressures, and who holds a vessel and its systems to the highest industry standards, there is only Steve D'Antonio.
I feared the dream of owning and understanding a boat like mine would be impossible; it would've been without you, Steve.
All my and my family's gratitude rains upon you.
Mike Cohen
Kadey Krogen 58
---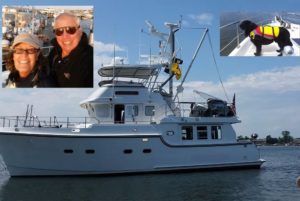 For over 10 years, my wife Mari and I have dreamed about a retirement that includes a healthy dose of long range cruising in a comfortable, off-shore capable, trawler style motor-yacht.  We have "boated" for most of our lives and looked forward to the experiences and varying locations that we would enjoy.  However, we realized that making a large investment and selecting the right vessel and one that was well found would require a level of expertise that we simply did not have.
We realized that we needed a marine industry expert to accompany us in this process.  The many systems found in a current generation passage-maker, their suitability for our planned use, their overall operating condition, and the relative readiness of the vessel to support our plans were all areas for which we wanted and needed an outside expert. Finally, we realized that heavy off-shore cruising requires as complete a picture of the safety of the proposed vessel as possible.
As a regular reader of Nordhavn groups and a voracious reader of industry magazines, I have followed Steve D'Antonio and his work for several years.  I respect his thoroughness and knowledge and have not found a subject yet for which Steve did not have experience and an industry and research supported point of view.  I read about Steve's Pre-Purchase Inspection Program and called him to discuss it. We had already selected a buyer's broker to assist us in the process and I asked him for his thoughts regarding Steve's services. Again, we wanted as many seats at the table as we could get in this complicated process.  Our broker knew Steve, appreciated his work, thought it had value, and highly recommended him for our needs.
After reviewing several different vessels, subject to our inspections, we made an offer on a 2003 Nordhavn 47 as the vessel that best fit our needs. I made arrangements for Steve to join us in Florida for the survey and mechanical inspection.  Steve spent two days with us in Florida and poured over every inch of the vessel. I was able to shadow Steve and witness first hand his thoroughness and detail.  He spent considerable time showing me what he found and helped me separate the critical items from those that could be worked on through during our ownership.  Steve also told me not to be surprised at the number of findings and that even newly commissioned vessels had a relatively lengthy list of items.
Steve took over 600 photographs and the item list numbered 195.  Each item on the list was cross referenced to the applicable photograph/s, an estimate as to the time required to rectify and perhaps most important, the criticality of each item was marked as A, B, or C.  Amazingly, Steve completed the report over the weekend and I had it in my hands the following Monday to share with the Buyer's Broker.  From that list and the survey findings, we were able to prepare a list for the selling broker of those items that we needed to be rectified by the seller and also, a list of those items for which we wanted a reduction in the selling price.
Steve remained right by our side through the purchase and inspection process.  We spoke constantly throughout and Steve was extremely generous with his time and was very helpful on the business side of the purchase transaction and after-sale outfitting/repairs.  To have Steve just a phone call away made our first season on the Mari Mi a little less daunting.
After bringing her up the East Coast from Florida in April, we left Deltaville, VA on July 1 and cruised the East Coast until October 7 when we dashed back early in anticipation of Hurricane Matthew.  Ports included St. Michaels, Oxford, Annapolis, Edgartown, Block Island, Newport, Cuttyhunk, Northport, and various ports in between.
We plan to head south in late November for the winter and cruising plans include east and west coasts of Florida, The Keys, and coastal waters. Next summer will take us to Maine and Nova Scotia.
Mike and Mari Zimet
M/V Mari Mi
---
I first met Steve at Trawler Fest in San Diego, in 2010, when he was teaching a seminar, just as we were in the process of purchasing Shear Madness (SM).  Since then, our professional relationship continued to develop.  I think it was in 2014 when we decided to join the Captain's Club, a program Steve offers for ongoing support for boat owners.  It was one of the best decisions we made with regards to owning SM.  While both my wife Kathy and I are experienced boaters, being able to reach out to Steve for guidance greatly reduced our frustrations and missteps when planning for maintenance or attempting to either fix a problem or diagnose a situation either ourselves or when working with a yard.  Neither of us are trained engineers.  Steve was always extremely responsive and helpful, either via phone or email.  Steve also provided great guidance and suggestions when it came to picking vendors to execute repairs.
As we were getting ready to put SM on the Market last year, we had extensive discussions with Steve about the process and his involvement with a potential buyer, given the fact that we were members of the Captain's club.  He assured us that he could not represent a buyer on an inspection without our consent as we were his clients.  While we conceptually had no issues with him representing the buyer, we did agree that a buyer would have to allow Steve to provide us a copy of his inspection report in conjunction with providing it to the buyer.  Steve and I also discussed, the rumors and misinformation that brokers have regarding his involvement in the process.
Myth #1: Steve's inspections are deal killers from the seller's perspective.  Steve assured me this was not true and backed it up with stats he keeps.  93% of deals Steve is involved in as the inspector for the buyer result in a sale.
Myth #2: Steve is often not available or hard to book.  While we had no trouble scheduling Steve, because of our client status, I was made aware from a close owner friend in the fleet, that Steve's availability was creating problems for him with a buyer.  The buyer was insisting the inspection be performed by Steve, and yet the Seller's own broker and the buyer's broker were indicating Steve was not available.  The Seller's broker had convinced the Seller that Steve's involvement would result in killing the deal or force the seller to substantially discount his selling price.  The Buyer's broker was concerned that because price negotiations had been so difficult, Steve's involvement would end up killing the deal, as it had on an earlier deal with the same buyer (my understanding is that vessel was in very poor condition, so Steve's involvement served his client well).  Since I just happened to know Steve's schedule, I put the Seller directly in touch with Steve, to get the inspection successfully scheduled, and to let him hear directly from Steve his record of facilitating the closing of a sale.
As a seller, we were pleased with the inspection (they are much different than a survey) from Steve.  While we did not agree with every comment Steve made, I believe he was fair, reasonable and he did clearly label any deficiencies he found that were original construction issues as such.  One approach we incorporated into the sale contract, that I believe proved extremely successful, was to agree with the Buyer, that X$ value of items listed in Steve's Inspection Report, were excluded from consideration and could not be used to renegotiate price or cancel the sale.  We did this both as buyers when we purchased SM and as Sellers.  We have found this approach makes the entire process a lot less stressful for both parties and helps focus the issue only on major items of safety or sea worthiness of the craft.  I believe our buyer remains happy with the transaction and Steve's report.
As we have told anyone who has asked us, we would never enter into any yacht transaction without Steve D'Antonio as our adviser and inspector.  You are welcome to reach out to us directly with any questions.
We hope anyone reading this gets as much pleasure, adventure and excitement as we did from our 7.75 year ownership of Shear Madness.
Bradley Rosenberg
Kathy Clark
---
Steve,
I really enjoyed working with you on my new vessel build project. It was truly great having you stand behind me to oversee the configuration process. Besides providing much needed confidence in a process where I was clearly a neophyte, your credibility and the knowledge that you were working with me made sure my builder was careful and engaged. Additionally, your introductions with the various other independent vendors was extremely valuable (and really interesting).
Douglas Smith
58 foot motor vessel
---
Steve:
When you did the inspection on the Laa-Dee-Dah you mentioned a suspect 50 amp 50 foot power cord that was faded and stiff.
Your suspicions were justified, the cable failed. Damage at one end was hidden by the boot. Once the boot was off it the charring showed an electrical problem. In addition the cable was cut to inspect the sheathing and cabling and it was found that moisture had seeped underneath the sheathing and corroded the multi strand wiring causing high resistance and heat.
Needless to say the old power cord was replaced with a not too cheap new one. Given the possible consequences, a new power chord was obviously a smart choice.
I keep discovering over and over again how valuable you have been.
Best Regards,
Gary Church
---
I purchased a five year old 70′ motor yacht in January 2017 and hired the surveyor required by the insurance company.  In fact I hired two surveyors for the boat and one for the engines and generators who was a Caterpillar specialist recommended by Steve.  While that would have been normal, certainly industry standard, I felt that to purchase a complicated vessel I needed more than just the routine review and evaluation from the insurance survey.
I first met Steve D'Antonio in about 2007 when I took a class from him in Seattle.  Of course I have followed him over the years by reading his many articles and then had the chance to take a more in-depth class recently aboard a beautiful 86′ Nordhavn.  As Steve now has a consulting business and a thorough pre-purchase evaluation is part of his portfolio of services, it made perfect sense to hire him for this purchase.  In fact I had hired him in 2014 to help me sort through the few brands as I was searching for this next boat and his guidance then had gotten me to this point.
Steve stayed with me for almost three days during his inspection while he examined every corner of the vessel, he inspected her bottom during the short haul, and put her through her paces on the sea trial.  Within just a couple of days thereafter he had completed an in-depth report with 165 recommendations.  Some of those were more informational and instructional, while some were more long term items which I have included in my ongoing maintenance routine, but many were urgent and needed immediate attention.  The report served to educate me on the condition of the vessel, prepare me for its ownership, and perhaps most importantly provided me with a document to support my request for a price reduction from the seller.  Frankly the seller knew of Steve and his reputation so he could not argue with the quality, accuracy or even urgency contained within the report.
Now, several months after the sale, I continue to get Steve's support in administering the various issues which come up in any vessel with this many complicated systems.  He has been following the progress and willing to provide insight and recommendations of qualified technicians along our route, as we cruise north this summer toward Maine from our starting point in Ft. Lauderdale.  After cruising from SE Alaska to Maine in our previous 55' Trawler, I am keenly aware of the need to have support by phone or email to help troubleshoot issues, solve problems and find the most qualified electricians, mechanics and technicians along the way.  Having Steve on speed dial has given me comfort on this 3 month summer cruise.
M/Y August Moon
Rick Clark
Liz Roberts
---
When Pamela and I decided to purchase a new boat we engaged Steve D' Antonio to assist us with the build.  Steve's brief was four fold.  Before construction began Steve reviewed the equipment list provided by the builder with us and made detailed recommendations about both the equipment selected and the installation, in particular the electrical systems and the layout of equipment.  The latter point was extremely important to us as one of the key drivers for the new build was ease of maintenance.  Steve organised for us to visit a similar boat where we met the owner and had extensive discussions over what worked and what didn't and how our plans for using the boat would impact upon the final equipment selection.
During the build Steve undertook yard visits with us to review our layouts and selections further.  He also provided advice on build quality.  As a result of these visits we made several important changes, which we would not have otherwise picked up in time.
Steve also remained a very useful and comforting sounding board during the build.  As would be expected during the build of a complex boat differences of opinion will arise between the builder and the owner, having an independent and reliable expert who gave an honest opinion was extremely comforting.
After delivery Steve visited us in Australia and undertook a pre acceptance inspection.  This resulted in an extensive hit list of over 180 items which the builder needed to correct.  Most of which was done at no cost to us.  To be fair to the builder many of these items could be considered minor but equally many were not.  Left to our own devices I am not sure we would have identified many of these problems and would now be dealing with the consequences on our own.
Steve continued to provide us with support and assistance after acceptance and during our first cruise.  What was particularly useful was the entry Steve had into the technical departments of the equipment manufacturers.  For example we had issues with our engine and the battery charging system.  Steve was able to go straight to the relevant experts who designed it and get a straight answer, in one case resulting in new equipment being supplied under warranty.  I compare this to the typical situation where one is fobbed off by the builder onto inept dealers with little technical skill and less motivation to do anything that costs money.
On a personal note Steve has always been polite, friendly and respectful of others opinions.  We value highly the social time we spent with him.  Steve never tried to foist his preferred solutions onto us when we clearly wanted to go in another direction.  Steve was always available and usually responded to any query within 24 hours; on the rare occasions when he was not available we always had a message explaining why there was a delay so at least we knew an answer would be coming.
I think the most telling statement about Steve's work with us, is that during our shakedown cruise of over 2000 Nm we had no major issues, the boat performed extremely well with systems and equipment performing much as expected.
 Bob Shelston
68- foot Trawler
---
Our first introduction to Steve was by attending one of his seminars at a TrawlerFest. We had just begun our boat search and had only just decided on getting a trawler – hence our attendance at a TrawlerFest. Over the years, as we continued to narrow down the options, we saw more of Steve at TrawlerFests and I became an avid reader of his column in Passagemaker magazine. When we had finally made our decision to get a new build Nordhavn 60 there was no question in our minds that Steve would be part of our "dream team" of consultants to help us through the process.
So we signed Steve on using his "new build" process. We actually signed with Steve before we signed the contract with Nordhavn. Over the course of a few months, Steve helped us be going through the specifications of the new boat and making sure that all of the equipment that was going to be installed was top-notch and appropriate for the use. Frequently he would recommend specific make/models for components and ensure that the correct details were entered into the order.
Part of the "new build" service is a factory visit. We went with Steve a total of three times. While the visits were short he was able to verify construction and, in a few cases, stop incorrect installation of some component or another before it became an issue. These things are complicated and having another set of eyes checking things over is a great resource – especially when those eyes are as attentive and knowledgeable as Steve's are!
The build finishes but Steve's "new build" service does not. Throughout commissioning Steve was there to help demystify things. We had a problematic commissioning and Steve was there when we needed him, by email, phone or in person. His last act of the "new build" service is to perform an pre-delivery inspection. Taking two days, it's fair to say that no aspect of our boat was skipped over. It seemed like every panel was looked behind and every wire was double-checked. He even found a bug in our isolation transformers that results in a recall of the faulty circuit board by the manufacturer. It's a testimony to his skill that even the equipment manufacturers listen when he calls! His inspection resulted in an action list of over 300 items – not unusual, I understand – most of which he was able to class as "nice to have". While minor, things like "loose bonding wire on through hull" are the kind of things that could cause problems down the line. When we pushed off from the commissioning dock, we did so in the knowledge that our new boat was as good as it could be.
We are so happy with Steve that we signed on for his "Captain's Club". A retainer based program, it makes Steve available as we cruise. He must sleep with one eye open reading email as he seems to be able to answer almost immediately whenever I've contacted him, and I've contacted him a lot! I've run proposed installations of new equipment past him; asked for advice on what that equipment should be; we even called him when things go wrong for a calming voice and what to do next.
There's no doubt in our minds that in whatever capacity you involve Steve in your boat – large or small; new or used; – you'll be happy with the service he provides and the advice he gives.
Martin and Stephanie Morris
60- foot Trawler
---
To Potential New Boat Purchasers:
I first ran into Steve D'Antonio on the docks at a Trawler Fest when we were considering the purchase of a boat.  While we had obviously not yet engaged him at that point, his professional approach, down-to-earth demeanor and knowledge of the preliminary questions we posed to him were noted.  Soon after, I began research into various boats and along the way looked into Steve's services and reputation in the marine industry.  I found a number of articles that Steve had authored which, after reading, validated my initial thoughts about his potential to assist us in our ambitious venture.  As I moved further along path of a new build, the complexity of the undertaking in front of me confirmed that, while I was hands on and reasonably knowledgeable about what I was getting into, there was no way I would commence a new build without the assistance of someone of Steve's caliber.  As I inquired around the industry for consultant recommendations to help us with our project, one name kept coming up– Steve D'Antonio.
I then entered into discussions with Steve to design a package to assist us with our plans.  Together, we came up with a service bundle that included his time for consultations & questions throughout the build, inspections of similar vessels prior to the build, on-site inspections of the build in progress (3 trips to the factory in China), a final pre-delivery inspection, all with detailed written reports & photos of his findings with recommendations for each noted item along the way.  With Steve's knowledge of the industry suppliers, I was able to access those with a proper understanding about their products, and with Steve's supervision, was able to make the appropriate decisions that best suited our desires for the boat we were having built.  Steve also met me at boat shows to look at different offerings from various vendors to assist with product selections during the process.  As Steve has no affiliations with the vendors, there was never any pressure to select a specific product as he just highlighted the pros and cons of each, allowing me to make the ultimate decision with his informed guidance.  Throughout the construction of the vessel, there were times when interaction between the builder and Steve was required.  During these occasions, Steve would work together with the builder in a professional manner while respecting their approach even when it differed from his opinion.  We were always able to come to a conclusion on items under discussion as everyone worked together as a team towards a common objective.
After the build, Steve has remained a valuable resource as we break-in our new boat.  He takes my calls or emails at any time and provides sound advice to deal with any issues that have arisen no matter how simple they may seem to him based on our inexperience.  Steve has joined us on a multi-day cruise during our first year of ownership to evaluate the systems and products that he recommended to us in order to ensure his recommendations on the various components were valid based on our use of the motor yacht.  In retrospect, there is no way that we could have ever completed this new build without Steve's skilled assistance along the way.
We made a great decision to engage Steve that will benefit us for the duration of our boat ownership and I would have no hesitation recommending Steve D'Antonio to potential future clients with a desire to either purchase or build a boat.
Sincerely,
Tim Talbott
63- foot Trawler
---
Dear Steve,
We were reminiscing last night about how far we have come in our journey for "boat happiness".  We are truly happy with our 65' Fleming and are convinced that without your guidance, things may not have turned out so well.  Meeting you in 2010 (or was it 2009?) was a real stroke of luck.  We had been looking at boats at boat shows for almost 2 years.  We signed up for one of your classes at the Baltimore Trawler Fest and learned more in your class than any other classes we took that year.  The conversations with you that followed were priceless.
We knew we wanted to own a boat that would be comfortable enough to be our home on the east coast, and quality enough that it would give us a safe and smooth ride on the big blue waters.  We had no idea what boat to go with.  Our boating experiences had mostly been on Texas lakes and we knew nothing about the boats we were looking at except that we liked the trawler style.  We looked at several different brands of boats and were all the more confused for it.  Establishing our consulting relationship with you was one of the best investments we've made.  You helped us determine which boat was best for our needs.  You were invaluable in assisting us in selecting options and specifications for our new Fleming.  You performed thorough inspections of any boat we were interested in as well as the boat we subsequently purchased.  These inspections as well as the sea trials you made were a huge learning process for us that added so much to our boating confidence.
If we were to sum up what your service has meant to us, we would say that your incredible knowledge of and experience in the entire marine industry whether you're talking about the mechanics of the boat or the waters around the world has found us our dream home on the water.  We would also say that we place high value on our friendship with you.  One cannot be involved in your service without becoming fond of your honest, patient, caring, friendly and extremely analytical nature.  We have recommended your services to many and will continue to do so.
Warmest regards,
Mickey & Ellen Flood
---
I ran a boat up and down the east coast for the last 5 years.  Started with a Grady 33 then moved to a 38 Henriques Sportfish.  We caught a lot of Bluefin off of Cape Cod and Sailfish off of Palm Beach in Florida.  Three years ago we took it to Turks & Caicos for the winter fishing for Wahoo.
I decided to give up the sporty for a cruising boat.  We got real serious about another brand, but couldn't get to an offer because of their ridiculously one-sided contract.  They wouldn't accept an offer written by my maritime lawyer.  Terrible people to deal with…..
After that fiasco, I contacted Steve to help us find something similar.  He had both Julianne and me fill out a questionnaire about how we wanted to use the boat, and this led Steve to suggest three brands.  Even if you are thinking about a particular boat, I would suggest you go through that exercise with Steve as that was the best money we have spent in yachting to date.
One of those three was a Fleming.  We looked at both the 65 and the 55 and decided to dip our toe in the Fleming pool before diving in….  We contracted for a 2001 55.  I would have never bought a vessel that old on my own, but I had developed a good relationship with Steve by this point and felt confident that he was steering us the right way.
Steve assisted in the pre-purchase inspection.  Steve, his wonderful daughter Katie, a surveyor, and two Cummins' mechanics were my pre-buy crew.  I learned from the first two boats and a few airplanes to spend the money on the pre-buy.  The dealer, Burr Yacht Sales, who brokered the Fleming was a little surprised by all of the folks, but they were great accommodating all of us.
It snowed 7 inches the night before the pre-buy.  We were shoveling snow off of the decks on the first day and pulled her out on the second day for the hull work.  Steve was smart…He worked in the engine room the first day while I shoveled!!!  LOL
Steve found 172 deficiencies on the vessel.  After the pre-buy, I put these all in a spreadsheet and using Steve's safety factors we had long discussions to determine what to address in the re-fit project.  There as a lot of deferred maintenance on this vessel, but I was reasonable with the seller as far as price reduction as this Fleming community is a pretty tight knit group.
After purchase, we immediately started a 7 week project with Burr Yacht Sales to address over 140 of the deficiencies as well as add a bunch of new items including a Stern Thruster, FLIR, AIS, NobleTec, new interior/exterior design and a new on-board data system.  Once done, this will be one of the best 2001's in the market.
Steve thought he was off of the hook after the consulting recommendations.  I use a lot of consultants in my business and if they make suggestions, I keep them around to implement them.  Same with Steve; he worked with the Burr Yacht folks on my re-fitting projects.
All in all, Steve is a great resource.  We plan to move to a larger vessel in the next 3-5 years and we will be using Steve again.  I had three engagements with Steve:  1-The Vessel Selection Assist program, to determine the best vessel for us; 2-The Pre-Purchase Inspection and deficiency prioritization; 3-The Refit Assist support program.  This all started three weeks after the Miami Boat Show when I gave up on the other brand.
Jim and Julianne Gilpin
Fleming 55
---
"Agreed, let's buy a bigger boat!"  That simple decision soon took my wife and me down a road we never anticipated…
How hard can this be? After all, we've been boating for many years around our summer home, and can pull kids on skis and tubes with the best of them. Having mastered a thirty-one foot boat, how much more is there to learn?
This type of thinking is where we started. Fortunately, our journey eventually led to the decision to work with Steve D'Antonio.
During our initial, independent search, the technology and toys, joystick controls, dingy garages, hot tubs and bunny pads mesmerized us. A list of "wow" items started to influence our thinking. With extremely effective salespeople looking to sell new boats and our desire to buy one, a perfect storm was in the making.
Fortunately, as the boats we were considering became larger and more complex, we realized we needed a qualified and experienced voice of reason. I had been reading every boat magazine I could find and was impressed by several articles Steve had written. Carole and I agreed to call and ask for his help. We didn't even realize he provides this kind of guidance as a career.
We met with Steve at his office in Virginia. Clearly we were on information overload. Within our first discussion, we knew we were in the right place.  In addition to his calm and confident manor, he is a great listener. Before long he helped us realize that our desire to buy a larger boat was based on the primary  interest in traveling further and safely.
The focus of our discussions and search changed – soon directed toward topics including sea keeping ability in rough seas, boat design as it relates to items such as redundant operating systems, ease of access for service, power selection choices, hull design, and attention to detail during manufacturing. The level of service support offered by the manufacturer and selling dealer was never lost in the discussions.
We were excited to have Steve travel with us to sea trial and give an opinion on our two favorite boats to date. This was very eye-opening. After about an hour of listening to his observations, I wondered what in the world I had been looking at.
I decided to follow Steve around in the engine rooms. I never knew a person could get into so many small spaces! Within a short period of time I saw things I'd never considered. His thoroughness is incredible, and his breadth of knowledge is impressive.
We could sense his passion was genuine and his focus on what was in our best interest was at the forefront of each discussion. The things he taught us are simply too long to list.
Eventually we found the perfect boat, backed up by amazing support, training, and service.  A 2012 with only 500 hours – it had to be perfect, right?
We decided to have Steve do a full-blown, pre-purchase review. After a long two days of looking at every square inch of this vessel, as well as a sea trial, he gave us a report with over one hundred items he wanted addressed.  On my own, I would have been aware of very few of these items, and because I had a second insurance survey completed, I saw how another surveyor missed 99% of the issues Steve identified, which we found a bit unnerving!
We ended up buying that boat and are having all of the items Steve identified addressed, changed, or repaired.  In spite of the fact that the boat was out of warranty, Steve impressed upon the builder the importance of correcting items that were ABYC violations, and they agreed to do so at their expense.
Having just completed a journey of over 1,500 miles in our new boat, we could not be more pleased. Steve took our interests and guided us to the perfect solution. Our boat "SalesmanShip" is safe, extremely well designed, incredibly seaworthy and backed up by superior support.
Looking back, the decision to work with Steve D'Antonio was the best decision we could have made. I will never buy a boat again without his guidance and involvement.
John P Gregory
Fleming 65
---
I would never build or purchase another boat without Steve's help and advice. Period. I found him to be detailed, smart, friendly, professional, easy to work with – and nice.  As much as I expected he gave more. You'll be hard-pressed to find a better way to spend your money.
100% happy.
Van Anderson
Nordhavn 55
---
"In a perfect world all doctors, lawyers and boat industry representatives would be knowledgeable, honest and ethical. This is not a perfect world. Unless you are extremely experienced in all aspects of buying a boat you enter the boating world at your own peril.
Steve, you provide a service that has been missing from the boating industry for the duration of my 30 odd years of buying, owning and selling boats. Your 20 years of experience and your eye for detail allows you to focus on things that may appear minor on the surface but could represent significant safety and cost issues down the road. But Steve is an additional cost, some might say….how do you justify that? It is always difficult to apply a finite value to something that did not happen but most logical thinking people understand that prevention is paramount to risk management.
Your competent assistance and counsel in the selection and purchase of my trawler was invaluable! There is little doubt in my mind that over the long haul you saved me far more than your fee. And how do you place a value on peace of mind? Rest assured that I will be calling for your assistance again in the near future."
R. Burt Prater, MD
---
"After taking Steve's D'Antonio's PassageMaker University course on Ship's Systems we asked him to help us choose our new boat. We looked at several trawlers together and Steve pointed out the positive and negative aspects of each boat in great detail. He also provided a thorough written report on each vessel.
With Steve's help we felt confident that there were no "hidden issues" with the boat that we finally chose. We also used items from his report in the purchase negotiations. Hiring this guy to consult on a new boat purchase will pay big dividends in knowledge and peace of mind."
John and Dianne Kernan
San Diego, CA
---
Steve:
I would like to thank you for your very thorough and detailed report on my new 48-foot motor yacht.
As you know, this purchase represented a substantial financial investment on my part. Not only did your report reassure me that what I was buying was what had been represented, it also gave me a valuable tool with which to negotiate the modifications, corrections and changes you suggested, all at the builder's expense.
Having read your articles in "PassageMaker" over the years it is obvious that your reputation in the boating world is second to none, particularly on the technical aspects of boat building, systems and mechanics etc. Most of us boat owners know enough to generally get us into trouble. Therefore, I felt I needed someone with your reputation and expertise in my corner when buying my next boat. My only regret is I should have done it sooner, when buying my first boat.
Again, many thanks for your valuable help.
Ron Thompson
---
"My wife and I decided to purchase a used 50 foot diesel powered trawler. Although we had several years experience on our 28 foot Searay Sundancer, we knew that we could not properly understand or evaluate the true condition and potential problems with trawler's many systems without expert help. Also, we wanted much more detail than we would get from an ordinary marine survey. We hired Steve D'Antonio because of his expertise and it was the best decision we made.
When Steve's entire body disappeared into the chain locker we knew we would be getting a thorough inspection. Steve provided us with detailed information on the condition of and potential problems with such things as electrical wiring, connections, fusing, poor bus block locations, inappropriate bolt and plug materials, steering linkage anomalies, window replacement, bilge valves and manifolds, an exhaust installation incompatible with the generator manufacturer's requirements, the use of inappropriate hoses for certain applications, and a myriad of other items, many of which were not even noted in the survey. As important, Steve's report explained what needed to be done to fix the problem conditions and, where possible, cited us to web sites or other sources for the parts or information to do this.
Steve found almost 60 items that we needed to know about-from those that could sink the boat to those that could cause mere inconvenience if not attended to. Comparing Steve's report with the survey showed dramatically how much more information Steve had given us to use in negotiating any final purchase price adjustments and in knowing what really needed to be fixed on the vessel to make our cruising safe and enjoyable with no unexpected surprises.
Steve performed all of his work in an entirely professional and timely way and was happy to answer all of our questions-of which there were many. We unequivocally recommend Steve's service to anyone who is buying a boat, or who just wants to know what the real condition of their boat is!"
Darrel Peters and Susan E. Lister
2006 50-foot trawler
---
I purchased a new sportfishing boat from a manufacturer that has a reputation for excellent quality. I hired Steve D'Antonio as a consultant to inspect the boat before I took delivery. Steve found a couple of dozen major and minor items that needed attention, some of which were important safety issues. He then worked very cooperatively with the dealer to discuss how to correct them. Both the dealer and I were impressed by Steve's thoroughness, his knowledge of boat systems, and his professional manner of communicating. I recommend Steve's services to anyone who is buying a new or used boat.
Frank Batten Jr.
Norfolk, VA
---
"I met Steve D 4 years ago while my boat was in a yard he then managed in Virginia. Within a year, I found myself calling him for advice on all of the tough boating related questions that I had. He always had the right answer!
This spring I bought a new boat from a very high quality production boat manufacturer and decided, for the first time, to hire a professional to go over the boat's mechanical systems. The first person who came to mind was Steve, now with his own consulting business. Steve and I spent one very full day going over the boat stem to stern, through sea trial and haul out. I was shocked, that within a ten page report, he identified over fifty problems in the basic build of the boat! The manufacturer agreed with virtually every item he identified and fixed the problems prior to delivery. The important part for me is that most of these were items neither a surveyor nor I would have identified, and many of them were significant safety issues.
I have over 40 years experience in and around boats, but I will never buy another vessel, new or used, without Steve's guidance."
W.K. Harris
Norfolk, VA
---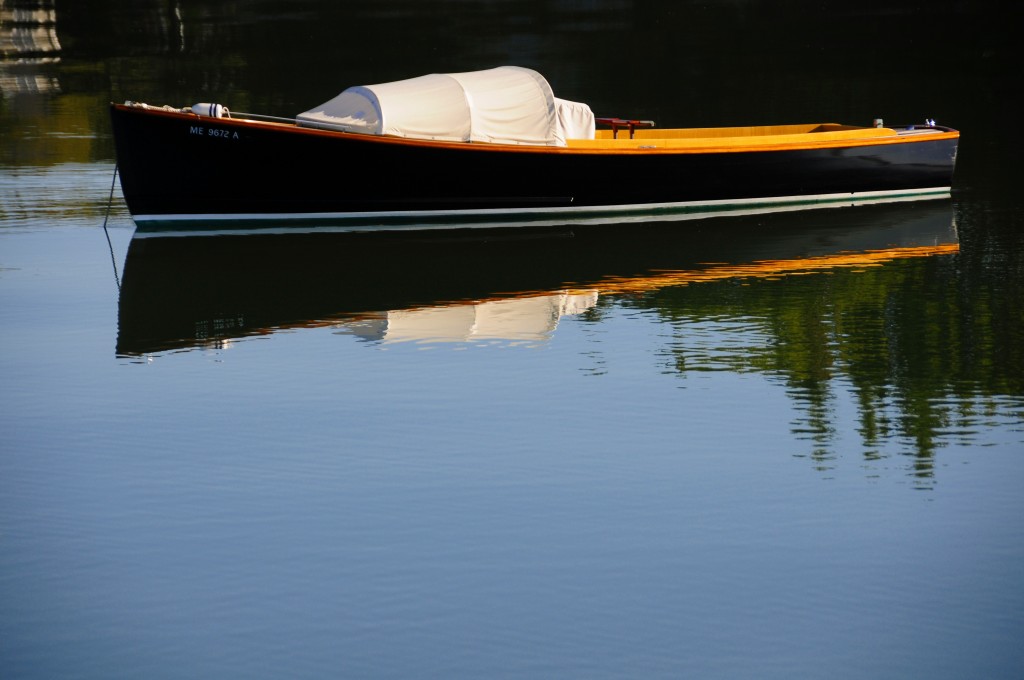 ---
Hi Steve,
Thank you very much for the superior and outstanding pre-delivery inspection that you performed recently on my new 52 foot motoryacht.
My boating began fifteen years ago, after retirement, with the purchase of used 52 foot trawler, followed in succession with three other boats, including the present one. I was determined to avoid most , if not all, of the post delivery mechanical problems that were present with the previous boats. Unfortunately, my past experience with marine surveyors left much to be desired.
For the past four or five years I have been reading your excellent articles in PassageMaker magazine, and then I attended one of your presentations at the 2008 Greenport Trawler Fest. Your experience, depth of knowledge, and pleasant, friendly demeanor led me to seek your help to provide a detailed pre-delivery inspection of my new boat.
Your inspection and subsequent written report, accompanied by hundreds of photos documenting the findings, was simply, without a doubt, the most eye-opening, jaw-dropping, thoroughly professional and complete performance that the thirty year experienced dealer had ever seen. After being, at first, somewhat defensive, he has now become a fan of yours, collecting your writings, learning from your expertise, and, most importantly, applying this newly gained knowledge of the correct equipment and installation to not only my boat, but to others that follow.
Steve, I owe you a debt of gratitude, for the brilliant work you did for me, and the way you have made yourself available to assist in correcting the many problems that you uncovered on my new boat. I will not hesitate to call upon you in the future when the need arises. Thanks again.
Stanley L Demski
MD
---
Steve:
We just wanted to take a moment to say, your verbal presentation, of the essentials of your inspection report, aboard the 42-foot vessel we are considering purchasing was extremely well delivered. We realize that you were more or less on the "hot" seat with buyer, seller and brokers present, however, you seemed to be very much aware of that and yet able to be forthright in your delivery of information. Your sensitivity to the vessel's current owner did not go unnoticed. You are a valuable asset to the industry and to the potential boat buyer. Thank you for your able guidance during our purchase of this vessel.
Laurence and Robin Lombard
---
Dear Steve,
I write to thank you for the outstanding and very professional job you did on the pre-delivery inspection of my new 50-foot trawler. It was the best money I spent on the boat. The 97 issues you uncovered during the extensive two-day inspection were as surprising to the boat builder as they were to me.
As you know, these issues ranged from 23 "critical safety items (direct risk of fire, explosion, electrocution, injury or loss of life)" to 33 "important, may compromise safe operation (the vessel may lose power, lose control or flood as a result of this problem)" to 41 "not critical, a nuisance or merely undesirable, but not immediately serious (however, may lead to substantial failures and / or repair costs in the future)."
Fortunately for me, the boat builder agreed with your assessment and recommendations and have now corrected all of the issues brought to their attention by your report. Thanks to you, I now have a much better boat and the builder will benefit from your expertise on all future boats they build.
I don't think I told you before, but the reason I decided to hire you to inspect the boat was a result of my attending your two-day Ships' Systems Stem to Stern seminar last May at the Trawler Fest held in Anacortes, Washington. Your seminar proved to me you really knew your business. Your real-world practical knowledge, gained from many years experience with all types and makes of boats, makes your knowledge superior to anyone in this business.
The only thing I would do differently if I were to commission another boat to be built is to hire you at the beginning of the boat building process to oversee all aspects of construction, including recommendations for all mechanical, electrical and plumbing systems.
I also very much appreciate that you expedited your report to me as the builder was moist anxious to start immediately making the necessary changes you recommended. Not only that, but you continued to have dialogue with both me and the builder on issues raised during the inspection.
Respectfully,
Doug Hallat
---
Dear Steve,
After the long journey around the continent we have finally received our new trawler and are enjoying her more every day. Please accept my compliments and gratitude for the comprehensive inspection that you provided prior to our final negotiations and eventual purchase. I remember well the first time we spoke and the initial sticker shock of your fees. After comparisons with the conventional survey conducted at the same time, the list of old adages such as "the best is not cheap" and "you get what you pay for" come to mind. While the conventional survey required for insurance and transport purposes was significantly less money- it was of little value compared to your detailed report of construction flaws (any one of which could lead to catastrophe). By comparison the conventional survey should more properly be termed an "inventory list" as it did not detect 1/10 of the issues you found. By the time I cross off the last of the items I think she'll be ready to cross oceans. For those contemplating such journeys I believe one of your inspections to be more valuable than a life raft or EPIRB. Finally, with the report as a negotiating tool, I was able to more than recover the cost of the inspection and so actually saved money in both the short term and very likely the long run with problems avoided.
With appreciation and highest recommendation,
James Kovats
"Coriolis"
---
Dear Steve,
I just wanted you to know how important your pre-purchase inspection, report, and follow-up counsel were to the purchase of our "new" boat-a 2001 37 foot trawler. As you know, our boat ownership experience was nil, and this was of great concern given the size of this purchase relative to our present and future net worth. My wife especially took great comfort in both the obvious thoroughness and competence of your report. Further, the report greatly enhanced our ability to have follow up discussions with repair facilities and the sellers, both in negotiating for immediately necessary repairs, and for getting a feel for what additional expenses might be coming down the pike.
As I told you during the inspection, the report of the highly recommended surveyor told us essentially nothing of value in addressing the very real issues of the boat, and what to expect over time. I look forward to getting the items you have identified to this point addressed, and I hope to engage you for a day or two, for an update and review on our way down the east coast next year, along with hopefully ongoing advice on appropriate spare parts lists, maintenance best practices, etc.
Yours
Gary Nakarado
---
"If any prospective yacht buyer is looking to get an expert opinion prior to parting with their hard earned dollars Steve D'Antonio is someone that I can highly recommend. I recently had a trawler built in China and to make sure all was well with our dream boat we hired Steve to perform a pre-purchase inspection. After two days crawling on hands and knees and countless pictures, a 15 page report was produced categorizing deficiencies into A,B and C classifications (A being the most serious.) With his report (and his reputation in the yachting world ) I was able to get immediate attention from the manufacturer and the major issues were corrected. If I had to do it over again the only thing I'd do differently is have Steve accompany me on the Sea Trial in China, prior to shipping the boat to the US. Repairs are less costly in China and can be quickly performed by the manufacturing company. Now that Steve has such a thorough understanding of my boat I feel confident that any future issues I have can be quickly resolved by email or by phone by his company. As you can guess I am a very satisfied customer and would highly recommend the services of Steve D'Antonio Marine Consulting, Inc. and willing to talk to prospective clients regarding my experience with his firm."
Ray Pagano
---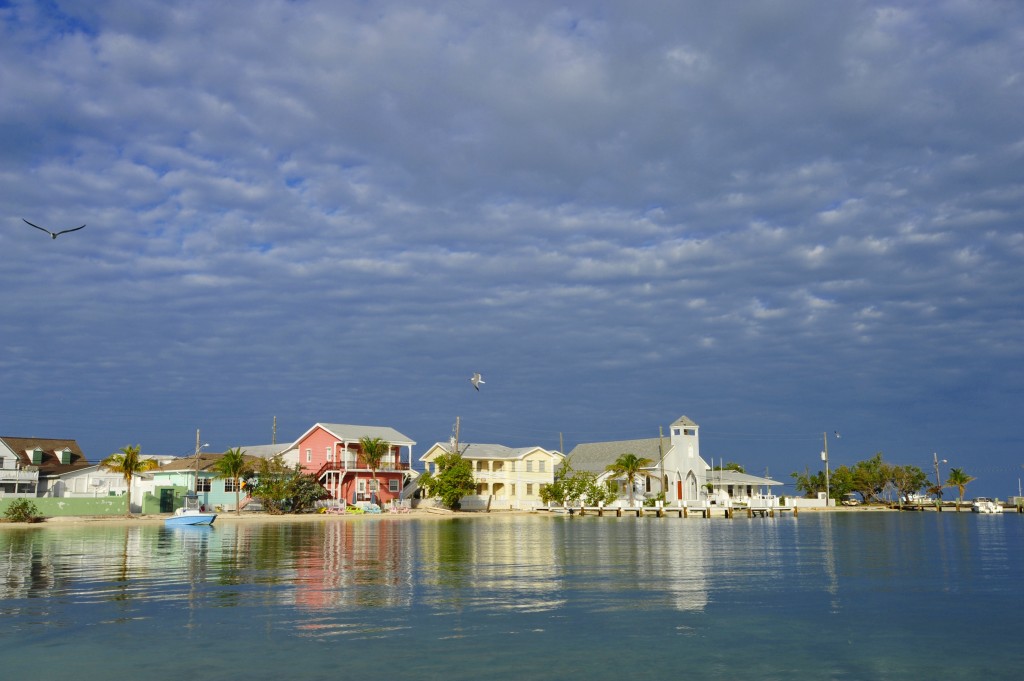 ---
Considering the purchase of a boat?  Perhaps you have done it many times but this was our first experience, an experience that went very well indeed. What created that outcome? For us it was knowledge and that knowledge was provided in great part by Steve D'Antonio through his Pre-Purchase Inspection service. He spent two days with us going over our potential purchase of a 2002 42-foot trawler. His complete understanding of marine systems and his ability to observe and document his findings both in writing and photographically are of great practical value. With this knowledge you know what you may be getting into and can make better decisions because of that. It helps you evaluate the vessel before you make the decision to purchase and then if you do purchase as we did it gives you a great tool to work with the boat yard, to have items addressed with both you and the yard having clear expectations of each other. Steve responded to all questions quickly and can verbally explain many of the more complicated issues in easy to understand terms. As we went through this experience we heard from our broker, the boat yard and the other surveyors that Steve's report was the most thorough and complete they had seen. He is a pleasure to work with and we believe the cost of engaging him is far outweighed in savings through his observations and his creation of our piece of mind.
Steve & Gail Sabol
MV Summerhouse
---
"I recently retained Steve D'Antonio to help oversee the construction of our family's fourth custom power boat from the same builder in Maine. After carefully inspecting our previous two boats, Steve made me feel very confident about the loyalty that I have for our builder, but more importantly he provided the expertise to help me make better choices for our new boat – especially with regard to selecting all the new onboard systems, and assuring their proper installation.
After commissioning three other lobster style power boats, and one sailing boat, you might think that there is not much for me to learn, but Steve opened my eyes to so many new and better ways to enhance and simplify our next boat (I especially appreciate the simplification – bravo Steve!). Steve's professionalism, and knowledge about "all-things-boats" is worth every penny of his fees. Steve's thoughtful guidance regarding systems selection will save money during construction, and I'm totally confident that the money saved will vastly exceed the fees we have paid to him. Moreover, we'll save money for years to come because we are doing things better from the start. Steve is putting dollars into my pocket!
I highly recommend Steve D'Antonio and I am 100% certain that or new boat will be tremendously improved due to his highly valuable advisory services."
With appreciation,
Glen Farr
38 Calvin Beal
Downeast Cruiser
---
"I enlisted Steve's expertise for an upcoming new build project with an interest in having his involvement to assist with initial planning, as well as an approximate 12 month construction period. For a fixed fee Steve crafted an 18 month program that provided me unlimited access to his time as was needed by me. While I was an engaged purchaser, I wanted someone whose expertise I could call on for drawing and systems review, ABYC compliance issues, industry contacts, and generally to have a fresh, knowledgeable alternative perspective involved to see things that otherwise may have been overlooked. As so often is the case in complex projects, a discussion about one component can lead to others and Steve was always extremely well versed in all aspects of the project. When I needed detailed information about a particular product or component Steve always had contact information for the best of the best at each company. An introductory email from Steve typically opened the door to a limitless well of quality information regardless of the topic. His respect by his peers is consistently evident throughout the Marine industry. Steve completed his responsibilities with a thorough pre-acceptance inspection of the vessel followed by a detailed inspection report which included high quality photographs of each inspection item. To say that the level of quality of the completed product was better due to Steve's involvement is an understatement. If doing this again, I would never consider it without Steve on the team.
I would strongly recommend that anyone considering a new build, refit, or purchase of most any vessel, regardless of their knowledge, use Steve D'Antonio in some capacity. The benefits will be immediately apparent and the long term boating enjoyment priceless."
George L
Nordhavn 68
MIGRATION
---
"I purchased a 13-year-old sailboat with complex electrical and mechanical systems. It was a high quality boat from a very reputable yard, but had been "sitting" for some time and had a lot of deferred maintenance items. The boat had been surveyed by a marine surveyor prior to purchase, but that survey was primarily for the insurance company and did not go into the level of detail I required.
Steve D'Antonio performed what I would call a "blue water survey," a comprehensive look at each system on the boat, including the hull, mast, rigging, plumbing, electrical, and others. He understood that I wasn't familiar with many of systems and very patiently explained their use and pointed out deficiencies, ABYC compliance issues, and items that should be repaired or upgraded before crossing oceans or extended cruising. Many items were minor; but others could have resulted in the sinking of the vessel, an onboard fire, or other calamities.
Steve produced a very comprehensive report that listed 107 deficiencies that needed to be corrected. He stack ranked the items from the most critical to the "get these done when you have time." Steve impressed me with the depth of his technical knowledge, his professionalism, and most of all, his integrity. He was tenacious in tracking down issues to better understand their cause and provide solutions to the problem.
The bottom line: No one should buy a new or used boat without having Steve D'Antonio look at it."
Walter Conner
Taswell 44
Seattle, WA
---
"Without Steve D's pre-purchase inspection and his additional after sale advice and support, I would not have attempted buying a boat in the States while I sat in Australia.
With Steve's assistance, I was confident I was not purchasing a lemon. The whole process flowed smoothly and now that "Sarettah" is sitting on Sydney waters, (from an Annapolis, Maryland origin) I can now reflect on the immense value Steve added.
Thanks Steve D !"
Michael Silm
New owner of "Sarettah" a 70′ Hatteras MY
Sydney, Australia
---
"Hey Steve,
They say hindsight is 20/20 and boy I just found that out.
When I first got your quote a year ago I definitely had sticker shock. I thought why would I spend that kind of money on a boat with just 67 hours on it and also it was being sold to me by the factory as "reconditioned". As it turns out, I should have gone with you.
After owning the boat for 8 months I found out that my engine room had previously had 2.5 feet of water in it. I found this out when I had some work done on the generator and a Cummins technician took off the sound shields (see attached pictures). It's very obvious that there was water in the engine room. I did some investigation and also found other evidence (pictures attached).
I am very disappointed as my return communication with the manufacturer of the boat has been very spotty at best. They are assuming no responsibility so far and I will have to seek legal help. I went with the surveyor that they [the manufacturer] recommended. The boat was surveyed but the surveyor has this in his survey quote. "This survey checks for compliance with U.S. Coast Guard regulations and the American Boat and Yacht Council, Inc. Recommended Standards and Practices. In addition, the general structural condition of the vessel and suitability for its intended purpose will be examined. This survey cannot check for latent defects which could not readily be discovered by inspection without removal of machinery, tanks, sheathing, joiner work, upholstery, bulkheads, ceiling, fascia or other fixed material; or disassembly of machinery, plumbing, wiring or other parts components or systems."
Being new to the trawler world I made a big mistake here. I rushed into this as I was in love with the boat. Now I know better. Feel free to use this experience in any of your marketing literature and let me know if you need any other information.
I am heading down to Fort Lauderdale this weekend for the show and look forward to attending one of your sessions at Trawler Port."
Regards – Steve Reinecke
---
"Steve – My wife and I wanted to take this opportunity to personally thank you for the excellent job you did in inspecting, evaluating and then reporting back to us on the mechanical, systems and structural components of the boat we were considering purchasing. Although we did have some fairly high expectations of your services because of our exposure to your contributions to Passage Maker magazine and various other marine/boating related materials, even we were totally overwhelmed with the thoroughness and professionalism of your comments and reporting. We had no idea there could be so much to consider and now after having gone through this process with you, are we ever glad we did. Not only did we receive an independent third party opinion that went way beyond the traditional survey reports, we also felt that your total commitment to us as excited boat buyers, especially ones that might have let their emotions rule the day, kept us on the straight and narrow.
Again, thanks so much and we would not hesitate to use your services again in virtually any capacity associated with our boat."
Regards – Jay and Sharon Shore
---
"I first met Steve when I was thinking of trading my 56 foot motoryacht for a 68. My husband had been following Steve's blog and recommended I retain him. At first I baulked given the price of his services. However, I have never made a wiser investment. Steve recommended a first rate surveyor and the two of them worked synergistically for two days, going through every possible nook and cranny of the boat. Steve also interpreted the results of fluid analyses and other reports, and gave me his recommendations of what needed to be done to make the boat safe and useable as intended. I quickly walked away from the purchase of the boat, knowing that I had saved myself tens of thousands of dollars as well as much headache and heartache. Steve's advice allowed me to discuss issues knowledgeably with the broker and to make an informed decision.
Because my boat was made by the same manufacturer, I retained Steve again. He found many of the same "generic" problems, as well as "boat specific" items that should be repaired. I am in the process of doing that now. Steve recommended a reputable boat yard that could do the repairs at a reasonable cost.
Steve guided us every step of the way through a difficult process. He was always responsive to my queries, answering them quickly and completely. I also found him to be very personable and easy to work with. I think anyone thinking of buying a boat larger than a dinghy should retain Steve. I could not recommend him more highly."
Krystyna Belendiuk, PhD, MBA
President, Potomac Consultants
---
"I wouldn't buy a rowboat without Steve!!"
And neither should you…IF you want to know exactly what you are getting with no surprises; and, if learning about what you have to do to keep her in good condition is important to you. Steve is incredibly thorough, amazingly knowledgeable, and practical. He has, after all, worked in the marine industry for 24-years and run boatyards for 13 of them, and now consults to them. Also, important to us, is that he is a person of principal, ethics, and character.
After using Steve for two inspections and two refits (the first for our 2000 Krogen Express 53 that we had owned four and one-half years, and ultimately decided to sell as a result of the guidance Steve provided, he helped us see that it wasn't the right vessel for our intended cruising plans, the other for the pre-purchase inspection of its replacement, our 2007 Nordhavn 55), I've figured out some of the differences between what a surveyor does, and what Steve does. The surveyor (even one that is very, very good) inventories equipment and confirms that things work. Steve, on the other hand, tells you if equipment and systems were installed correctly (they can fail if they weren't), if parts are appropriate to use, are 'broken,' adequate for the size of vessel, or are missing. There is a world of difference in these approaches, and huge value. You do have to be prepared to be shocked. Steve can go through a very well-maintained boat (as both vessels he inspected for us were) and find 130 items, large and small, that need attention. (He prioritizes his observations that require urgent attention). Along with his 20-page report we also got 600 photos that were, as they say, worth a 1,000 words.
Douglas and I first used Steve to inspect our KE 53. Planning to own her forever, we had taken great care of her and in that process, poured a lot of money into her (since most peoples' definition of 'a lot' varies widely, I will tell you that it was $300,000+). Most of the work was done at a boatyard that was expensive, and high quality (we thought). Our plan was to ship her to the Mediterranean and we wanted to know what forward maintenance we should take care of stateside. We didn't expect that anything much would turn up, we had, after all, as active Wheelhouse (then SeaKits) users, been meticulous in her upkeep. In our view, Steve was simply good insurance before taking off on our big adventure. We are conservative, like to go to remote places, anchor out, and want to be safe. Little did we know, that if we had simply planned to continue coastal cruising, a Steve D inspection would have been critical for our safety!
Examples from both inspections:
Second hose clamps were compressing hose, not the barb. On our new boat, one of these was an A/C inlet barb that was too short! There was no room for a second hose clamp! The specter of a flooded bilge raced through our minds!
At the bow on the KE53 there was weeping hardware (observed from inside the anchor chain locker) and high moisture reading topside. The cost of replacing a rotten bow pulpit? $13,000! The cost of re-bedding screws and sealing core IF we had had Steve on board years before? $400. Since we anchor out all the time, yet again, the specter of our bow pulpit failing gave us shivers. I can't count how many mechanics had been in the anchor locker doing routine maintenance on the windlass – did anyone mention rusting screws or exposed, water-saturated core? No. As a result, I've become a tyrant on bedding hardware and epoxy filling exposed core.
During one of the refits, we had a serious miscommunication with a supplier of a major system. Steve immediately engaged as our advocate, to a successful conclusion. To us the question is not 'Is it worth it to hire Steve?' It is – multiple times over. Instead, I think the decision is 'Should we get smart about our boat?' To catch small, easy-to-fix problems that left untended can lead to catastrophic consequences. To be safe. To ensure that work done on the boat, whether by yourself, or by a yard – is done right. You will always save money in the long term if you do that.
We are unabashed advocates. My only wish is that Steve finish his book on boat maintenance (rich with pictures) so I can have his amazing advice at the ready, all the time.
Capt. Linda Bialecki and Douglas Klassen
M/V Aries Too
Nordhavn 55-25
---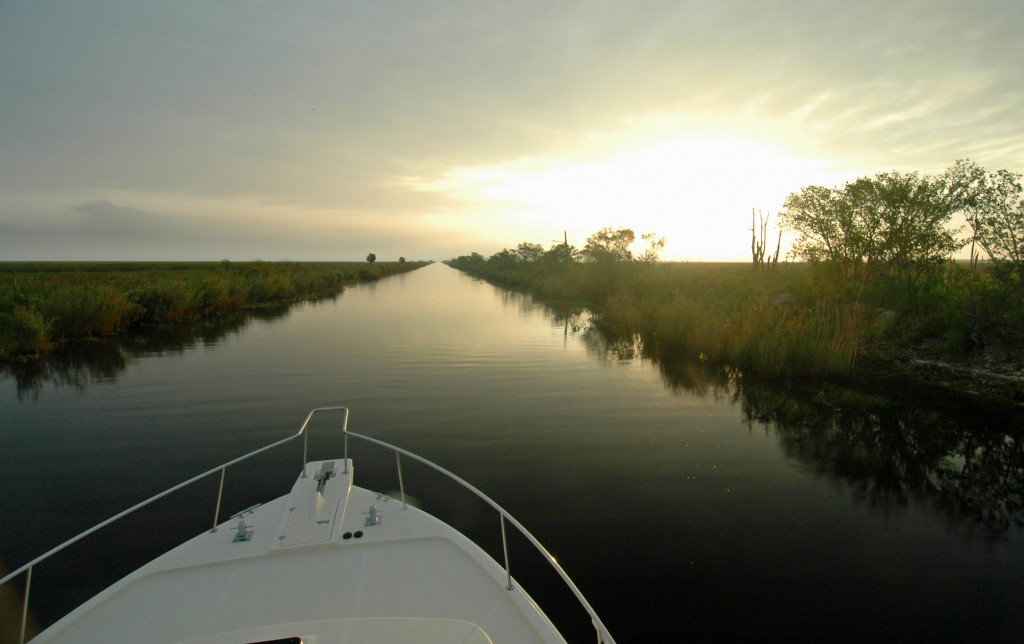 ---
We have been attending Steve's seminars, workshops, and lectures at Trawler Fest events for several years, and are avid readers of his column and articles in Passagemaker Magazine. As engineers and authors ourselves, we have always been impressed with Steve's technical acumen, superb communication skills, and no-nonsense approach to marine safety and engineering excellence.
Because of this, we have long thought that we would consult with Steve when we were ready to buy our first trawler. The stars aligned for us when we, Steve, and a boat on which we were about to make an offer all ended up at the same boat show together, and we were fortunate that Steve had just enough time available to conduct a "light inspection," which we asked him to do before even making an offer.
As engineers, we already knew this boat had a few issues. But Steve's decades of experience in the field, and his willingness and ability to squeeze into hard-to-reach spaces, open every access panel, and get his hands dirty investigating oft-neglected parts of the boat, uncovered myriad issues that we would never have found on our own. As issue after issue added up, Steve estimated the potential yard bill rising into the hundreds of thousands of dollars.
Ultimately, what it would have taken to make that boat right brought the total expenditure above our budget, and the seller was unwilling to correct the issues. We ended up walking away without making an offer. Steve's fee was less than one percent of what it would have taken to fix that boat. That was money well spent, even though we did not buy the boat, because Steve took the time to explain each and every finding, making us much more educated buyers in the process.
Some day, another boat will come along which will be right for us. And there is no question that we will again consult with Steve before closing the deal.
Sean Welsh and Louise Horner
---
May 3, 2013
RE: Steve D'Antonio Marine Consulting
To Whom It May Concern:
Steve D'Antonio conducted a pre-delivery inspection on our newly-built vessel.
I would highly recommend his services to anyone planning or purchasing a vessel. Steve is detailed and thorough. He provides a detailed report, along with photographs, that clearly helped us understand the issue and provided support for asking that changes be made. His report contained many references to detailed sources explaining the issue, sometimes to his own written articles and sometimes to external sources and manuals. Thus, there was full support and documentation of the issues, even beyond that contained in his own report.
By his own admission, Steve is a "by the books" guy. That is, he believes the equipment should be installed according to the equipment manufacturer's instructions, and according to ABYC standards. My only regret is that we did not involve Steve at the beginning when we were planning the boat. His services are not inexpensive, but he is worth every penny!
Regards,
Ann Evans
---
Port Elizabeth,
South Africa, 2013
To whom it may concern,
The breed of boat owners are special or would they otherwise want to have a boat?
If experiences with boats tell us something, it is, we never know and understand the complexity of a boat, and when it comes to cruising vessels running a small town is probably easier!
The understanding of systems, materials and there interconnections in the smallest spaces will challenge the most vivid boat lovers, because chrome and varnish is NOT what keeps the boat above water.
As a long time sailor and live aboard, I learned fast, that professional help is much cheaper then bad experiences and if it comes to buying a boat this help is available, in the person of Steve from "Steve D'Antonio Marine Consulting, Inc." Steve will give the buyer the best arguments for negotiations, and for the seller it is a reality check and preparation for a smooth selling process. The detailed inspection report paired with the discussions about the findings is preparing and helping you to understand this complexity It gave me the confidence to tackle these challenges!
Steve's professionalism will allow everyone an insight into how the systems of a boat should be, and how you can achieve this, and will eventually give you "the edge" of enjoying the vessel.
We wish Steve and his company a resounding success, so boating does not become a TWO DAY event.
All the best
Knut Hildebrand & Christine Weibel
---
Hi Steve,
Margaret and I are under contract to buy the vessel you inspected for us. With your advice, we lowered the price by $135,000. Now we have to put it back into Bristol condition, but we have your reports to guide us. Thank you for all your advice and counsel.
George C. Larsen
New owner of an 85-foot motoryacht