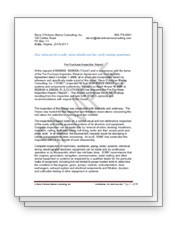 The SDMC client who asked me to inspect his new boat prior to finalizing its purchase knew that "new" is not a guarantee of safety, reliability and immediate enjoyment of a faultless vessel. To make sure his first days of ownership were not filled with disappointments and unexpected, expensive costs that were not covered by warranty or the goodwill of the seller, he asked for my complete inspection of his boat. As you will see, I found over 90 items, many of which were critical safety issues, some involved expensive fixes and others would have created problems early in his ownership of the boat. My client was able to use this report, and my credibility in the marine industry, to have all the deficiencies corrected before taking delivery. His cost savings were far greater than the cost of the inspection. Names and other identifying details have been changed or omitted to protect the identity of the client and builder.
Example observations from this report:
#2. Ensure that the anchor chain rode exits and re-enters the chain locker without developing jams or hockles in the chain pipe or locker (100 feet of chain should be deployed and retrieved ten times as a test, allowing the windlass motor to cool sufficiently between evolutions). The chain should deploy and retrieve without experiencing these problems every time, without exception.
The bitter end of the chain is permanently affixed to the vessel via a chain locker mounted pad eye. An emergency "cut away" three strand line should be installed between the last link of chain and the pad eye, it should be long enough so that it is exposed on deck when the chain is completely deployed, a suitable sheath knife should be secured in the locker to execute the cutaway in the event it's needed. B. 041409187.
#19. The AC voltage observed throughout the vessel was consistently low when operating on shore power, approximately 103 VAC. The dock voltage, when tested at a nearby receptacle, and voltage derived from inverter and generator, was normal. Therefore, there appears to be a fault with the vessel's shore power wiring. A. ABYC E-11. 041409064, 147.
#48. The generator exhaust is "spliced" into an existing FRP tube in the lazarette port aft locker. The function of this tube is unclear, however, it leads into the vessel's engine room and possibly accommodation spaces. The splice is leaking. Generators and all engines should be designed with dedicated, separate exhaust plumbing that exits the vessel without connection to other plumbing. ABYC P-1. 041609064, 065. 041409359, 360.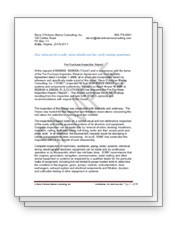 The real costs to buy a used boat that will meet your standards for safety, reliability and full enjoyment are too often discovered too late. As a marine industry professional for over three decades, 12 of those years as a boat yard manager, I worked with many disheartened used boat owners, who had followed all the usual purchase steps — deal with a reputable broker, personally inspect the boat, contact owners of similar boats, carry out a survey and conduct a sea trial — only to find, after buying the boat, that they were faced with thousands of dollars in costs to fix safety and reliability problems that were not identified in any of these steps. Here is an example of an inspection of a 12-year old vessel built by a well known, respected manufacturer. The buyer had followed all of those usual steps and was ready to buy the boat when he decided to ask for my inspection. With a full understanding of the costs he would incur to bring this boat to his standards of safety and reliability, he did not purchase the boat. We're now working together to find the right boat. The accredited marine surveyor who conducted a survey for my client described the vessel as "very favorable", his report included just 8 items that required correction in order to meet recognized ABYC, USCG and NFPA standards. The following SDMC report, as you'll see, includes over 100 observations, 8 of which are deemed critical, within just the first 20 observations alone. Names and other identifying details have been changed or omitted to protect the identity of the client and builder, however, the observations are real and remain as they were in the original report.
Example observations from this report:
#16. One of the foredeck shore power fuse holders is overheating. The cause for the overheating should be isolated and repaired. Consider replacing these individual fuses with a single, multi-pole circuit breaker installed in the fwd cabin in accordance with ABYC E-11.10.2.8.3. A. ABYC E-11. 010, 013, 014.
#50. A metallic fuel line is chafing against the generator stop solenoid housing. A. 248, 249.
#71. Seacocks located under the fwd head vanity utilize thread types that are incompatible. For more on the subject of seacock installations see http://www.cruisingworld.com/how-to/systems/prevent-leaking-or-frozen-valves-below-the-waterline-1000067412.html . The handle on the fwd valve is seized and the shelf impinges on its free movement. B. T: 18. ABYC H-27. 093-095.