Home
Annual Inspection Program
Annual Inspection Program
The Annual Inspection Program is available to SDMC clients whose vessels have previously been subject to a full SDMC inspection.  It's designed for those who wish to ensure their vessels are maintained in the very best possible working order, with the greatest possible reliably and economy of operation.  The inspection should take place no more than one year after the initial full SDMC inspection, and each year thereafter.  The program includes the following…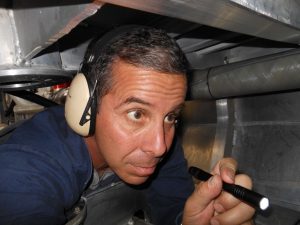 In advance of the inspection, SDMC will review a list, provided by you or your crew, of repairs, maintenance, and projects undertaken
in the previous year, as well as any problems with which you may have dealt.
Inspect the vessel's systems, including a sea trial and, if it can be arranged, a haul out to review the bottom and running gear.
While aboard, review specific issues, and service items with the crew and you if you are aboard (if you are not this can be carried out remotely)
Create a detailed, photo documented report detailing findings and recommendations.
Provide follow up support after the report has been submitted, answering questions, and providing additional information where necessary to carry out repairs or recommended changes.
Contact SDMC for anticipated inspection duration, and fees.