Cruisers' Workshop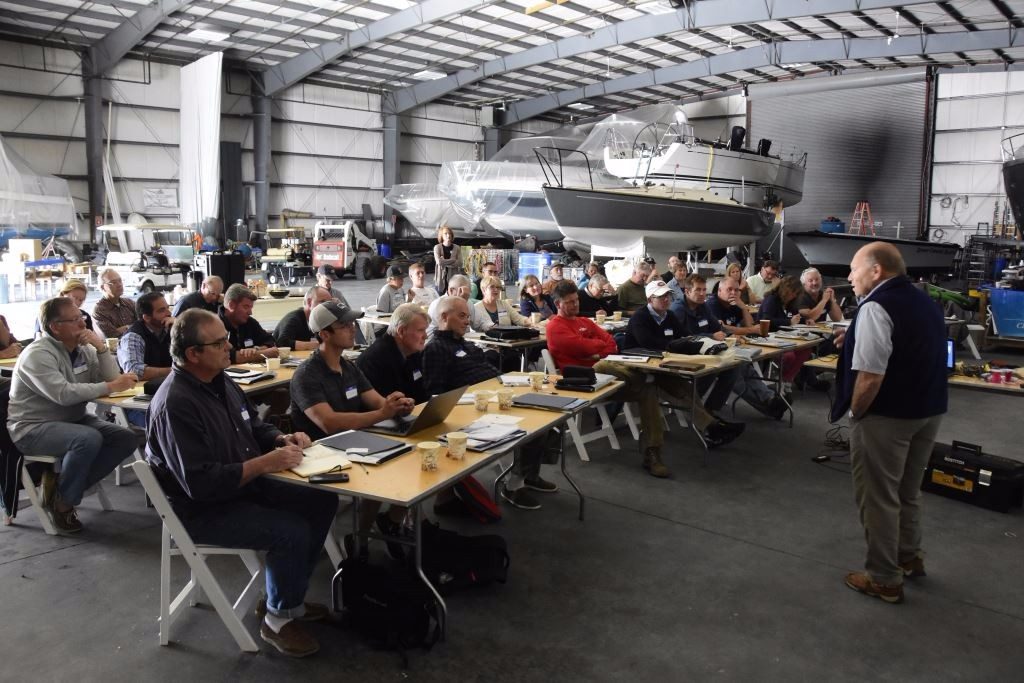 The fall 2017 Cruiser's Workshop is now in our wake.  Held at Brewer Yacht Yards' Warwick, RI location, it was attended by 35 students from across the Eastern Seaboard.  To receive information about the next Workshop, sign up for the SDMC eMagazine Newsletter.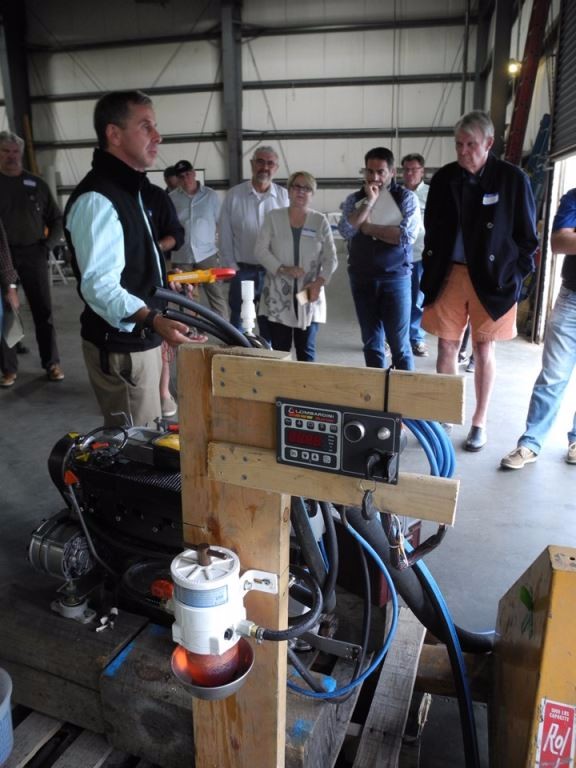 Led by ABYC Master Technician, technical journalist, lecturer and marine industry consultant Steve D'Antonio, and assisted by ocean voyager, former Vanderstar Chair at the U. S. Naval Academy and author of The Art of Seamanship Ralph Naranjo, the focus of the Cruisers' Workshops is to provide attendees with a high quality, professional learning environment, in a boatyard setting.
Joint and split track sessions, catering to both power boaters and sailors, will include a combination of hands-on mechanical and electrical training and demonstrations, in a boat yard shop setting, as well as photo-rich presentations.
Please stay tuned for Our next Cruisers' Workshop dates and location.
Attendance is limited to 35 students.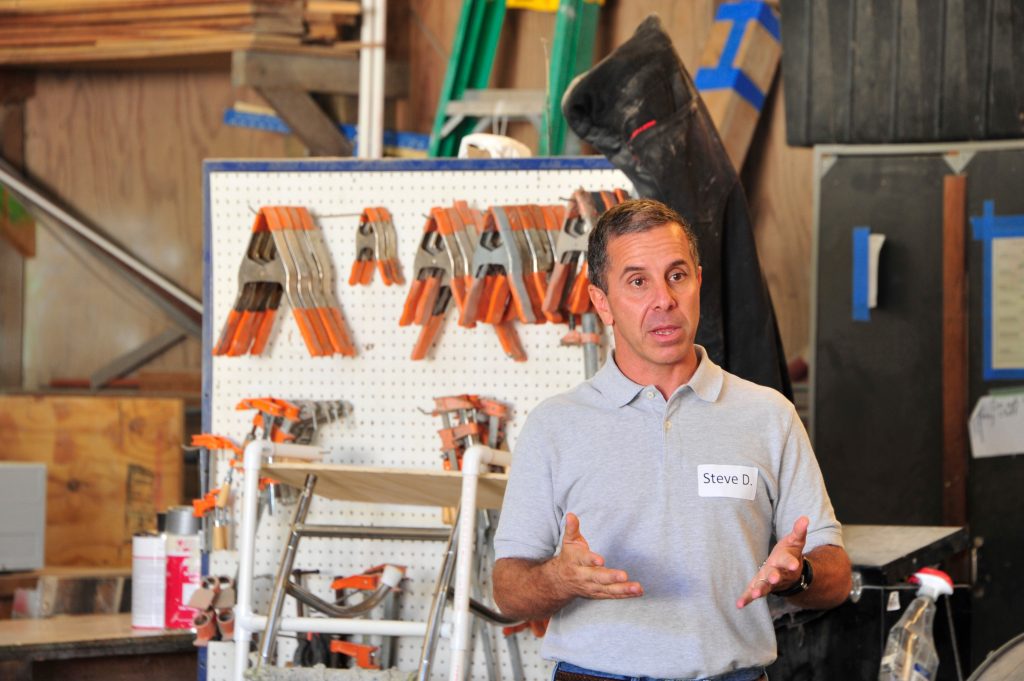 ---
2017 Session Details
Hands-On Diesel Service (Power and Sail) Steve D'Antonio 90 min.
How well do you know your way around your engine?  Can you identify key components, starter, alternator, fuel injection pump and injectors, raw water pump, circuit breaker and starter relay?  In this hands on and lecture demonstration you'll learn to identify all of these key components and more.  We'll then move on to key service procedures such as fuel filter replacement and fuel system bleeding, as well as removal and replacement of the raw water impeller and belts.  You'll also learn basic mechanic and electrical troubleshooting technique.
The Weather Wise (Power and Sail) Ralph Naranjo 90 min.
This session is for both sailors and power cruisers and focuses on forecast acquisition and how to turn weather information into sound seamanship based decision-making. Attendees will become familiar with the Ocean Prediction Center's weather maps, the National Hurricane Center's tropical weather early warning system, and the value of monitoring the Storm Prediction Center's real time thunderstorm watches—a probabilistic approach to severe weather alerts. These resources are available free of charge and can be acquired at sea via cellular, satellite and SSB radio links. Benjamin Franklin coined the phrase "the weather wise and the otherwise." This session helps you become part of the former.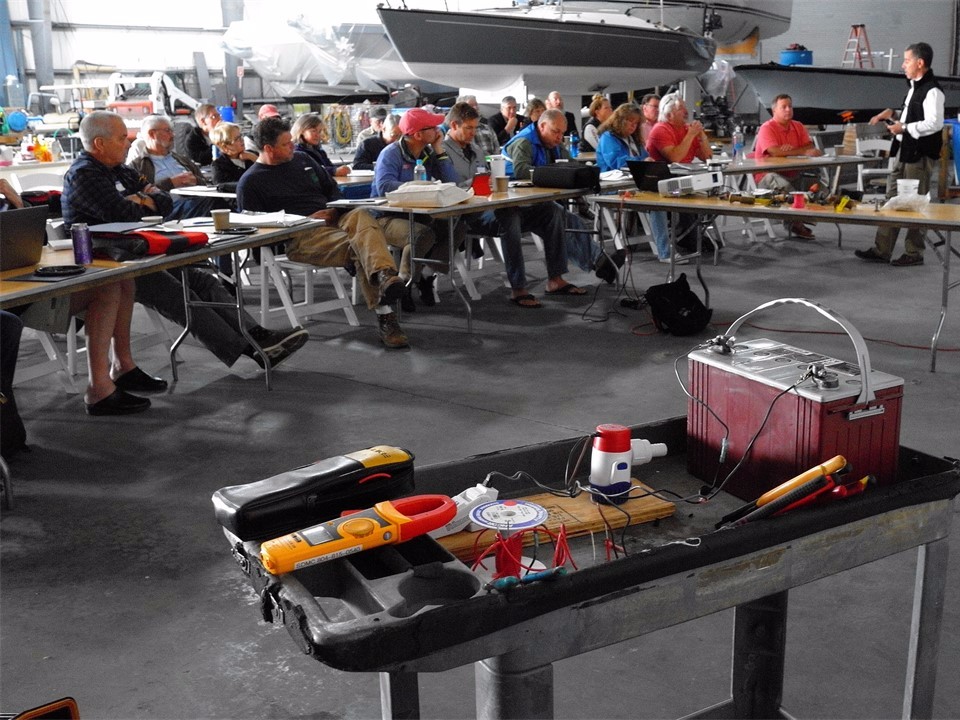 How to Avoid the Most Common, Costly and Dangerous Systems Failures (Power and Sail) Steve D'Antonio 90 min.
Nearly all of the systems problems and failures boat owners face are avoidable.  In this seminar Steve will share with attendees guidance and wisdom that will help them… avoid fuel tank contamination and corrosion, running gear misalignment, saturated fiberglass core, batteries that die prematurely, clogged heat exchangers and unreliable electrical systems, to name a few.  Steve will also share tips on avoiding disputes and working effectively with the marine industry.   The session is interactive, so come prepared with your questions.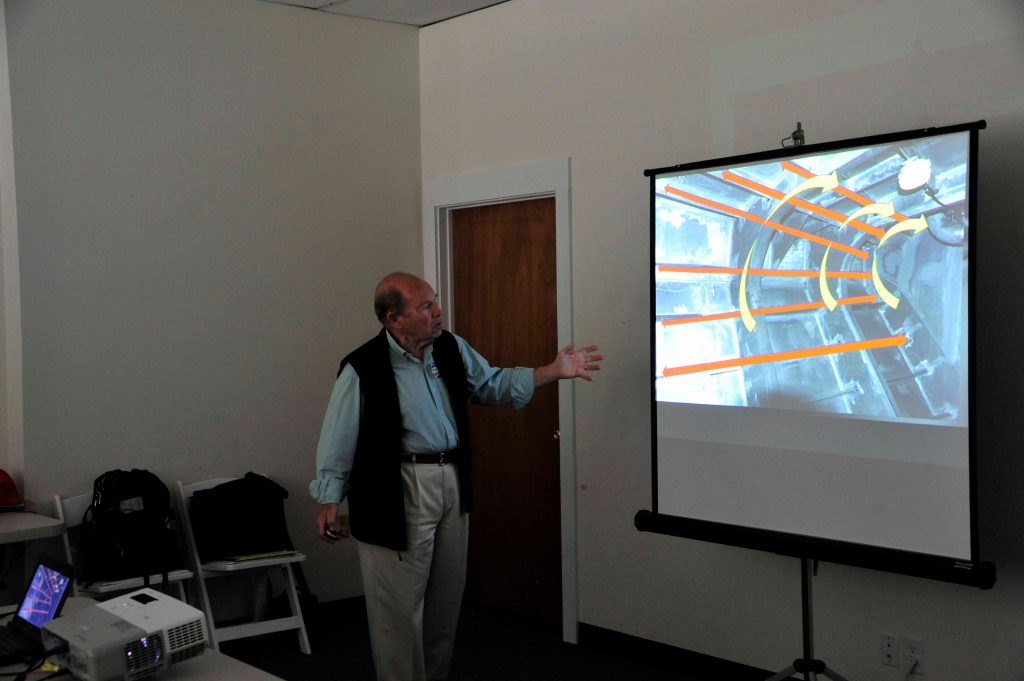 Navigation's New and Old Techniques (Power and Sail) Ralph Naranjo 90 min.
In an age of electronic fixes, digital charting and vessel tracking systems, some cruisers forget where they left their hand bearing compass and roller plotter. But others see good reason to blend traditional techniques with satellite fixes, and continue to think like a navigator rather than abdicate the process to a flow of electrons.  The intent of this presentation is to layout a sensible routine that keeps a navigator ready to step in when and if the proverbial lights go out.  It also explains why he or she still holds sway over a networked MFD displaying an electronic fix.
Hands-On Multimeter Use Demonstration (Power and Sail) Steve D'Antonio 30 min.
Many onboard electrical faults and failures can be quickly and easily identified using a commonly-available and inexpensive multimeter.  While many cruisers own such meters, few have taken them out of the box or learned to use them.  In this introductory session, you'll learn how to use the basic functions of a multimeter to measure volts, amps and resistance, as well as the practical applications associated with each.  Learn not to be afraid of your multimeter, and if you have one feel free to bring it with you.
Sailboat Selection (Sail) Ralph Naranjo 90 min.
Using an interactive approach, Ralph will answer your questions about sailboat selection. He'll deliver an overview of design alternatives and how to establish your own specific set of priorities.  Options range from day sailors to around-the-world voyagers and attention will be given to the healthy attributes of a functional coastal cruiser and contrast these with what's needed in a long distance cruiser. Issues such as stability, structure and performance lead the list and will be compared with the requirements of comfort and livability.  Naranjo has sailed his own boat around the world, raced and cruised for decades and written extensively about voyaging under sail.
Diesel Fuel System Design, Installation and Failure Avoidance (Power) Steve D'Antonio 90 min.
Clean fuel, it's the very lifeblood of any diesel engine and for that reason its importance cannot be overestimated.  Contaminated fuel not only raises the risk of unexpected engine shut down, it increases the likelihood of damage to metallic fuel tanks.  One of the most effective ways of making certain the fuel that reaches an engine is clean is to ensure the fuel delivery system, plumbing, manifolds, tanks, as well as primary filtration, are properly designed, installed and maintained.  Beyond that, there's fuel polishing, supplemental, stand-alone filtration that operates before it gets to the engines.  In this photographically intensive, interactive PowerPoint presentation you'll learn about the details of fuel systems, from how they operate to how to design and install an efficient, reliable and effective system.  You'll discover why all fuel systems are not created equal and how to distinguish between supplemental filtration and true fuel polishing systems.  Making heavy use of images from the field, an emphasis will be placed on material selection as well as proper design and installation techniques.
Oil Analysis, The Mechanic's Crystal Ball (Power and Sail) Steve D'Antonio 90 min.
It's an invaluable tool that's been effectively used by the aviation and rail industries for over half a century.  Today, most manufacturing facilities and over the road trucks as well as commercial, institutional and military vessels rely on oil analysis, to reveal defects and impending failures long before ordinary potentially costly or dangerous problems manifest themselves.  In this presentation the "mechanics" of oil analysis will be detailed, including establishing an oil analysis program for your vessel, sample taking procedures, selecting analysis labs, reading analysis reports (and avoiding miss-reading these reports), and the value of establishing a condition-based maintenance protocol.  Oil analysis is no longer cutting edge technology, it's proven and common place where ever users of internal combustion engines wish to extend equipment life, prevent failures and save money.
Planning a Summer Cruise or The Great Escape (Power and Sail) Ralph Naranjo 90 min.
Cruise planning involves an understanding of navigational constraints, climatology, vessel readiness and crew capability.  Ironically, more great cruise plans suffer from too much rather than too little of a good thing. These itineraries end up with too many miles at sea and too little time to savor the landfall.  To sharpen your long voyage of short summer cruise planning ability, we'll analyze the factors involved and double check some real-world alternatives. We'll start with a swap of Long Island Sound for Chesapeake Bay, look at a down east run to Nova Scotia or Newfoundland, and consider a year off interlude in the ICW and Bahamas.  For those with a penchant for blue water voyaging, we'll map out a first time to Bermuda experience and recount an 18 month trade wind reach from Tahiti to New Zealand.
---
Please e-mail Katie to register, or with any questions you may have.
Fees: $895/couple, $495/individual.  This includes breakfast, lunch and evening review session/and cocktail party.
Registered attendees are afforded advanced online, password-protected access to an exclusive collection of a variety of articles written by event presenters.  For those who have received the password, please follow this link, or follow the link on the top right of this page:  Exclusive Workshop Attendee Documents.
To be added to the Trawler Training Workshop mailing list, and received updates and registration information, e-mail katie@stevedmarineconsulting.com